LG MIRACULOUS MEDAL CENTER – vintage/20c (1.5 in.) – SS.RC.011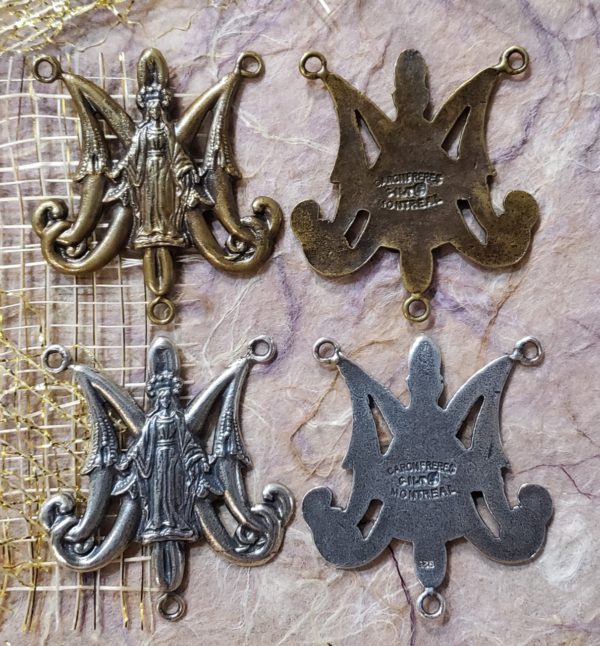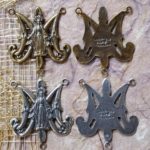 Description
LARGE MIRACULOUS MEDAL CENTER: Mary framed by and standing in front of the initials 'A' (Ave) and 'M' (MARIA).  A very traditional design, wonderfully large for larger rosaries. We are discovering that larger rosaries are becoming more popular than ever.
Part of our Samsara Collection.
---
We have found that this is originally from a medal which hung on a brooch "The Men's Congregation" of St. Sacrement which very few were made. The medals were made between 1910 and 1940's. The medal is signed on the back by the fine company of Caron et Freres de Montreal who made the medals at the time. The original brooch is said to be about 3″ L x 1.5″ W and weighs approx. 0.7 oz. Samsara's rosary center piece has an added loop at the bottom, the only thing different from the medal, but otherwise the same as the original medal. A rare find for sure.
---
ABOUT OUR MEDALS: All medals are hand cast in solid bronze and sterling silver from antiques and vintage pieces then antiqued to restore original patina.
---
PLEASE NOTE: When trying to match up SAMSARA pieces with NON-SAMSARA pieces we will personally help match them for you. Some of the metals/antiquing Samsara used in his old pieces do not match our own pieces, especially the Bronze can be very off color. Please contact us if you need help!
---
PRICING SUBJECT TO CHANGE WITHOUT NOTICE.
*NOTE: ONLY A LIMITED AMOUNT OF PIECES LEFT! TO BE DISCONTINUED, WE WILL NOT BE GETTING RECAST! (From our Samsara Collection)
BRONZE = $16  *(SOLD OUT)
STERLING = $54 Your Special Price $40 *ONLY (27) STERLING LEFT IN STOCK
(actual size:  1.50 in. H x 1.3750 in. W, including bails)
PRICING SUBJECT TO CHANGE WITHOUT NOTICE: (pricing determined by gram wt of metals at time of casting)