LIFE'S PILGRIMAGE STANDING HOLDING CROSS – BRONZE (1.5 in.) – GWC.6026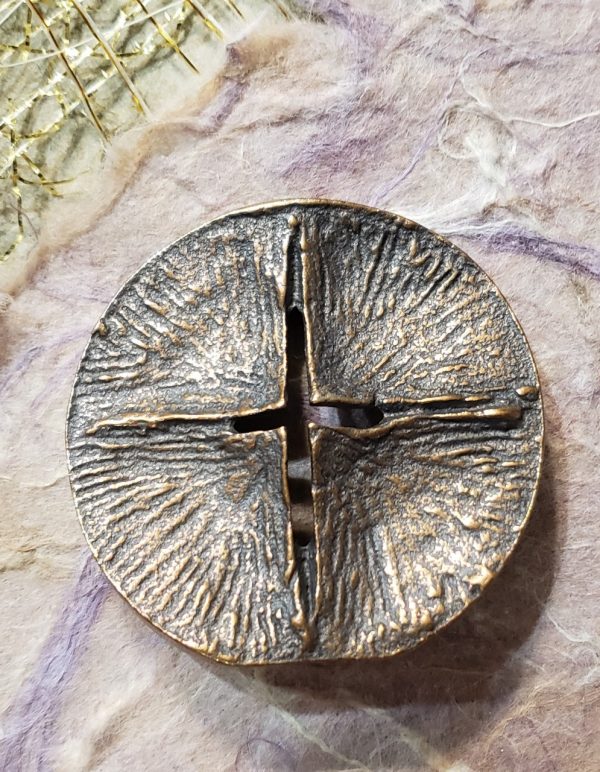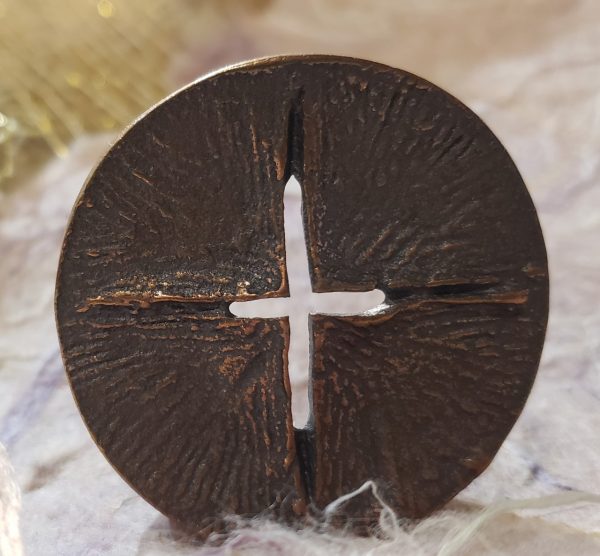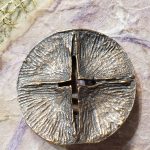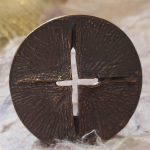 Description
LIFE'S PILGRIMAGE STANDING HOLDING CROSS: The Life's Pilgrimage Standing Holding Cross is made of solid bronze with a weight similar to a few quarters, it rests with comfortable and substantial weight in your hand. The size of this cross makes it a perfect holding cross and a contemplative Christian gift; at just shy of 2 inches around, it is approximately the size of an old silver dollar. The texture of the Life's Pilgrimage cross is also unique among our collection: radiating lines are etched into the bronze, spreading outward from the cross, catching the light and making the cross appear to radiate with our Lord's power. The cut-out cross in the center reveals the color of the background it is placed against. The cross stands on a table or desk or might be carried in a pocket as a constant reminder of God's presence.
A PERFECT GIFT: For those looking for a tasteful addition to their desk at work to help turn every day into an act of devotion, a part of the pilgrimage, look no further than this understated, elegant standing cross. Reminiscent of Christ's constant love, the Pilgrimage Cross shines as if with the life-giving rays of the sun. It is also a reminder of Holy Communion. As a standing cross, this makes a perfect Christian gift for any occasion: Confirmation, Christmas, birthday, anniversary, Easter.
Part of our Creator Mundi Collection.
---
MEANING OF LIFE'S PILGRIMAGE: We are all pilgrims on this life-journey, and the Life's Pilgrimage Standing Holding Cross is a perfect Christian gift which evokes the constant, radiant love of Christ. We might define a pilgrimage as a long journey to a sacred place, the journey itself becoming an act of devotion. Ideally, through mindfulness and an orientation of gratitude, we turn our daily lives into an act of devotion to God. This is a beautiful meditative Christian gift to give yourself or someone else on their pilgrimage.
---
ABOUT THE MONASTERY OF MARIA LAACH: For over 50 years Maria Laach has offered religious cards, icons, and bronzes of high quality. There are about 80 Monks, assisted by Lay people in the production of these works sold all over the world. The grounds of the Monastery are also a sign of their large agricultural business. Their more recent works include gates and garden art. Our visit in 2007 gave us an incredible sense of this very blessed community.
---
PRICING SUBJECT TO CHANGE WITHOUT NOTICE:  (pricing determined by gram wt of metals at time of casting)
*(AVAILABLE TO BACK ORDER – ALLOW 1-2 WEEKS)
AVAILABLE IN BRONZE ONLY:
GWC.6026 = $25.50  *ONLY (10) LEFT IN STOCK
(actual size: 1.50 in. H x 1.6250 in. W)
PRICING SUBJECT TO CHANGE WITHOUT NOTICE: (pricing determined by gram wt of metals at time of casting)