MARYS HANDS – UNDOER OF KNOTS MEDAL – Germany, 1500/1700s – (1.5 in. ) – EM.1246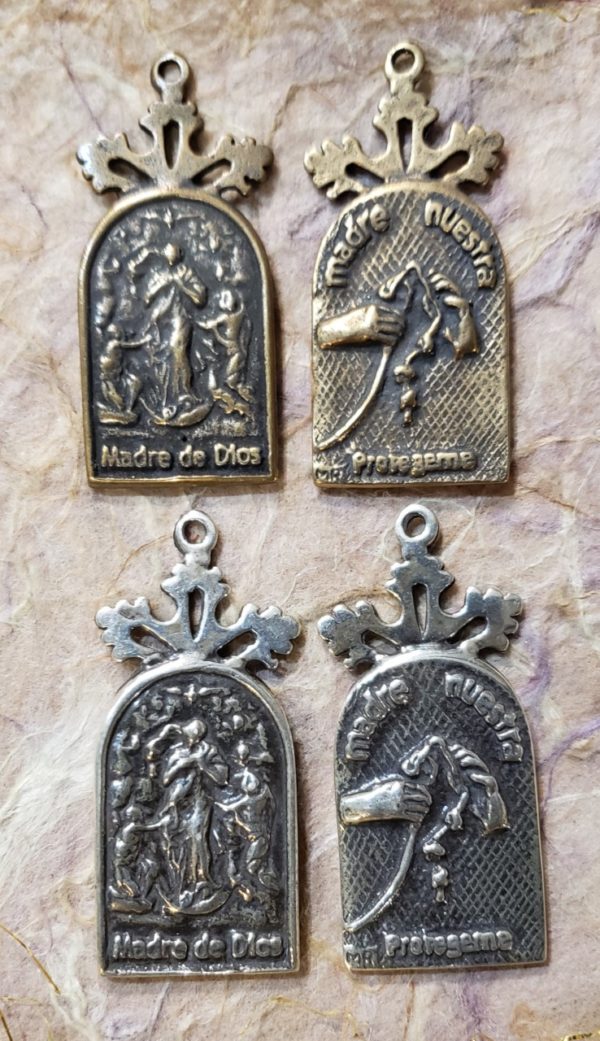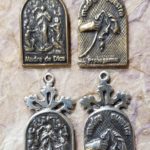 Description
MARYS HANDS – OUR LADY UNDOER OF KNOTS MEDAL – MOTHER of GOD (ALSO KNOWN AS UNTIER OF KNOTS): Inspired by the 1700 painting 'Mary Undoer of Knots'. It may be seen at St. Peter Perlach Church (Augsburg Bavaria Germany). While a student, Pope Francis visited the church and saw the painting. He was so deeply touched by this ancient devotion, that he brought its history back to Argentina where it grew in popularity with the people. Now, we are made more aware of its history thanks again to Pope Francis.  REVERSE: MADRE NUESTRA  TRANSLATION: OUR MOTHER & BELOW PICTURE OF HER HANDS UNTING THE KNOTS.
ALSO SEE: (ERC.1249) – Mary's Hands Center  http://ait.devops.design/domains/wp/rosaryworkshop2/shop/marys-hands-undoer-of-knots-center-germany-1500-1700s-1-5-in-erc-1249/
Part of our Equatoria Collection.
---
TRADITIONAL HISTORY: The tradition of Our Lady, Undoer of Knots is believed to date back to the time of St Paul. Here we also learn about the New Adam and the New Eve. And St Irenaeus (120-200) continued this word of mouth, time honored tradition by noting, "And so the knot of Eve's disobedience received its unloosing through the obedience of Mary; for what Eve a virgin, bound by incredulity, Mary, a virgin, unloosed by faith."  SEE following link for more information:   http://www.rosaryworkshop.com/RMK-MaryUndoerKnots.html#ROSARIES
---
ABOUT OUR MEDALS:  All medals on our website are hand cast from antiques and vintage pieces in sterling silver and solid bronze then antiqued to restore original patina.
---
PRICING SUBJECT TO CHANGE WITHOUT NOTICE: (Pricing determined by gram wt of precious metal a time of casting)  PLEASE NOTE THIS IS A SOLID STURDY PIECE FOR ITS SIZE HENCE THE EXPENSIVE PRICE FOR (STERLING).
BRONZE = $19  (shown top)  (avg. gr. weight = 7.1)
STERLING = $83  (shown bottom)  (avg. gr. weight = 10.3)
(actual size: 1.6875 in. H x .6875 in. W, including bail)
PRICING SUBJECT TO CHANGE WITHOUT NOTICE: (pricing determined by gram wt of metals at time of casting)