'MEMENTO MORI' CHAPLET – museum inspired – 2 Styles – CDLM.51112-51013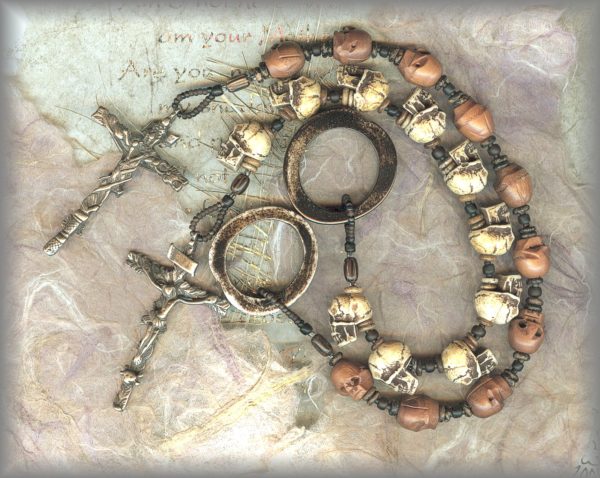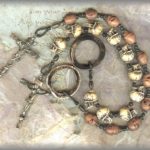 Description
 'MEMENTO MORI' CHAPLETS: 2 STYLES TO CHOOSE FROM
Museum Inspired 10 bead chaplets made of skull beads. Your choice of either  yak bone or carved wood.
BONE BEAD:  White Bone called 'Ghost Beads'. Ground Yak bone mixed with resin, cast in a mold then antiqued.
or
WOOD BEAD: Individually hand carved wood skull beads.
CRUCIFIX: ORNATE TREE – antique, Russia/19c or before – (2.5 in.) and shows the tools of crucifixion. You will see the skull and crossbones below the feet of Christ, again the symbol of Victory Over Death.
Horn ring at end of chaplet will vary in size and color
---
Skull beads were used in prayer counters for centuries by various religions including the Christian Religion. 'Memento Mori' is a call to remind one of ones mortality, 'Remember you must die'and also of those who have died. The traditional use of the skull bead is a reminder of 'Victory Over Death'. Christ's victory over the sin of Adam.
The actual inspiration for these chaplets may be seen in the magnificent German book DER ROZENKRANZ (Andacht Geschichte Kunst). One of the chaplets in the book show a tassel at the end with a crucifix attached to the skirt. These were dated from the 1500's – 1700's.
---
ABOUT OUR HANDCAST METALS: All metals, crucifixes and crosses are handcast from rare antique and vintage pieces in sterling silver and solid bronze then antiqued to restore original patina.
---
PRICING SUBJECT TO CHANGE WITHOUT NOTICE (pricing determined by gram wt of precious metal at time of casting)
WHITE YAK BONE SKULLS (13 in.)
BRONZE: ($180) – your special price $144
STERLING: $332) – your special price $265.60
WHITE BRONZE: ($164) – your special price $131.20
BROWN WOOD HAND CARVED SKULLS (14 in.)
BRONZE: ($144) – Your special price $115.20
STERLING: ($296) – Your special price $236.80
WHITE BRONZE ($128) – Your special price $102.40
PRICING SUBJECT TO CHANGE WITHOUT NOTICE: (pricing determined by gram wt of metals at time of casting)