"NEVER HUNGER" ROSARY – First Communion – Moss Green & Horn – (19.5 in.) RFCB.22221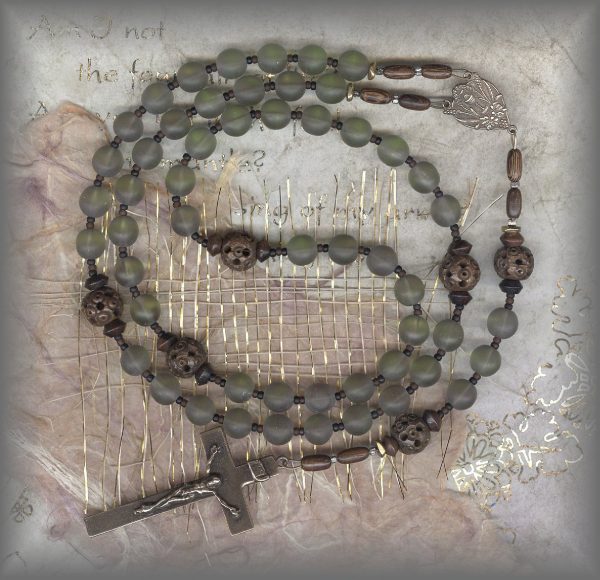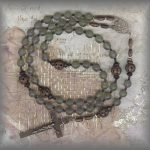 Description
"NEVER HUNGER" ROSARY
AVES BEADS: 8m Antique beads of highest Czechoslovakian quality in shades of  pale green to grey depending on the light.
PATER BEADS: 10m Dark brown carved horn capped with wood.
CRUCIFIX: MEDIUM PLAIN CRUCIFIX-antique, Italy/1910's
CENTER: EUCHARIST WHEAT with CHALICE CENTER – Antique, origin/age unknown. (.75 in)
This handsome rosary can accompany any young man into adulthood.
Designed for the young man making his First Communion or for those who prefer a smaller rosary. (19.5 inches)
_______________________________________________________________
Jesus said to them, "I am the bread of life; whoever comes to me will never hunger, and whoever believes in me will never thirst…..John 6: 30-35
___________________________________________________________________
PRICES SUBJECT TO CHANGE WITHOUT PRIOR NOTICE (pricing subject to gram wt of precious metal at time of casting) antique beads very limited, unable to replace.)
20% DISCOUNT APPLIED BELOW UNTIL GONE
ROSARY:
BRONZE: ($180) Your special price $144
STERLING ($198) Your special price $158.40
PRICING SUBJECT TO CHANGE WITHOUT NOTICE: (pricing determined by gram wt of metals at time of casting)