OUR LADY OF GOOD HELP ROSARY -Great Peshtigo Fire (WI) – Smoky White, Antique Beads & Austrian Crystal – (21 inches) – RDPF.21171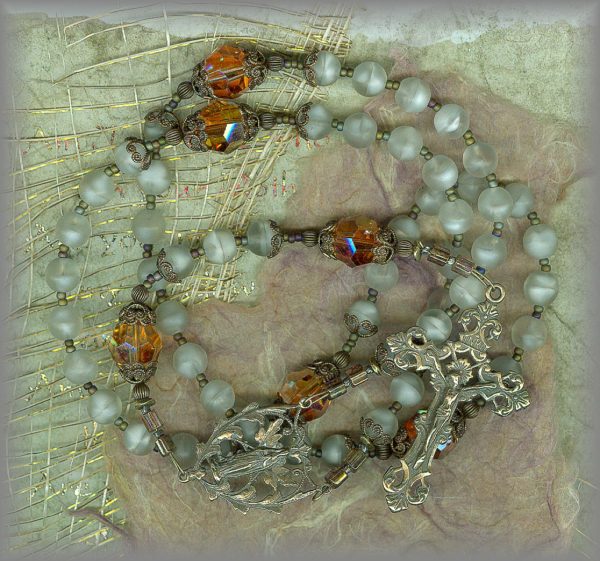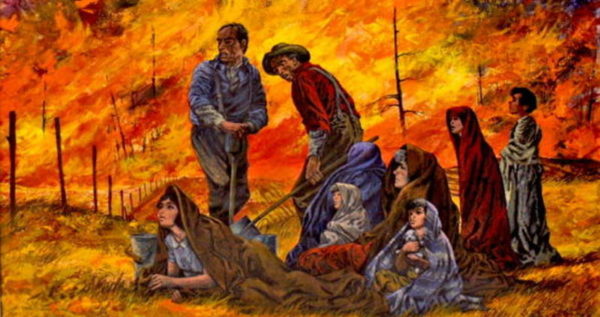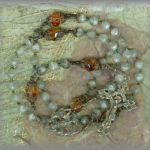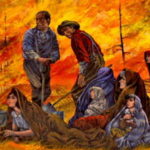 Description
 "OUR LADY of GOOD HELP"
(Natural Disaster Series) GREAT PESHTIGO FIRE OF 1871 SERIES:
AVE BEADS: These 8mm old smoky, matte 'Givre' beads, crystal with white inclusions date back to the late 1800's – early 1900's and are chosen because of the same time period. They also symbolize the garment of Mary caught in the translucency of the heavenlies when she visited a young sister in Wisconsin – Setting this to be the first approved apparition in the U.S as of Dec 8, 2010.
PATER BEADS: 12mm Faceted Swarovski crystal capped in metal filigree are in the shade of the golden sash Our Lady wore as Our Lady of Good Help. The orange cast becomes a precursor of the fires to come.
CRUCIFIX: LARGE FANCY – antique, France/1880's – (2.25 in.)
CENTER: LG LILY MADONNA CENTER – France / 1880's – ( 1.25 in. )
---
INSPIRED BY:"Our Lady of Good Help / Queen of Heaven" who appeared to Sister Adele Brise in Champion Wisconsin, then called Robinsonville, October 8 & 9, 1859. 12 years to the day before the Great Peshtigo and Chicago Fire. It is the first approved apparition in the US by the Vatican (Dec.8 2010,) on the feast day of the Immaculate Conception of our Lady) and now rates with Lourdes, Fatima and Guadalupe.
---
MARY'S MESSAGE TO SISTER ADELE – " I am the Queen of Heaven, who prays for the conversion of sinners, and I wish you to do the same. You received Holy Communion this morning, and that is well. But you must do more.
Make a general confession and offer Communion for the conversion of sinners. If they do not convert and do penance, my son will be obliged to punish them."
---
PRAY YOUR ROSARY FOR ALL FIRE VICTIMS
We dedicate these rosaries to fire victims, as a part of our series on environmental / weather related tragedies. We hope to encourage people to remember, not only to pray your rosary for protection today but for those who have suffered in the past, for those who suffered sudden death with no time to convert.  And for protection against future events.
+
Uncontrolled fires bring a horrible loss of life and land, scarring people beyond reach.  We see this in war every day. And recently there has been an overwhelming occurrence of forest fires in Texas, California and throughout our nation. A terrible loss of life and land.  
---
ALL OUR MEDALS: All our medals are handcast from antiques and vintage pieces in sterling silver and solid bronze then antiqued to restore original patina.
---
PRICING SUBJECT TO CHANGE WITHOUT NOTICE (pricing determined by gram wt of precious metal at time of casting)
20% DISCOUNT APPLIED UNTIL GONE
BRONZE: ($294) your special price $235.20
STERLING: ($412) your special price $329.60
PRICING SUBJECT TO CHANGE WITHOUT NOTICE: (pricing determined by gram wt of metals at time of casting)