ON THE NIGHT BEFORE HE DIED CROSS (Egino Weinert-Germany) (4 in. H x 3.1875 in. W) – GWC.6003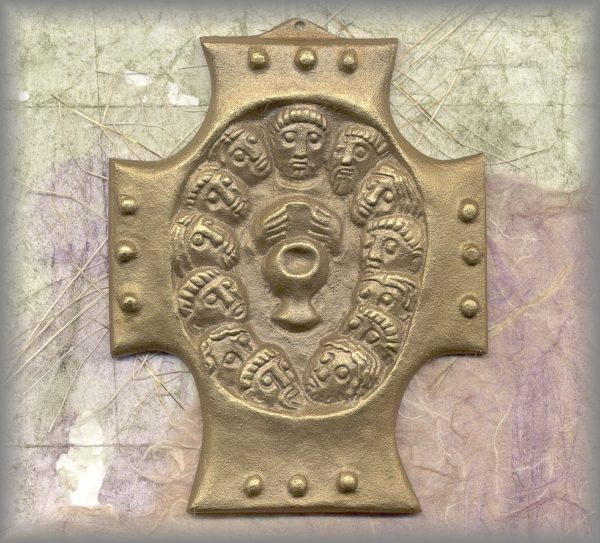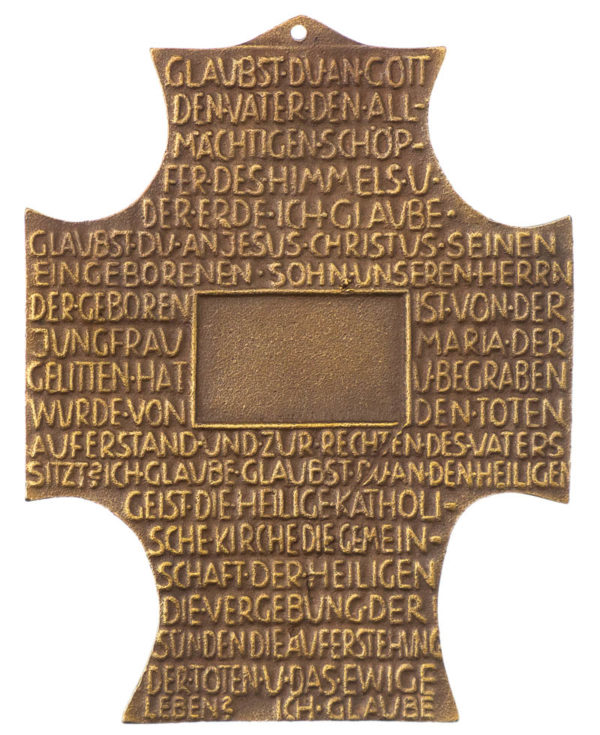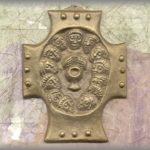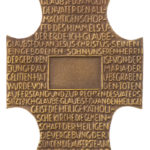 Description
ON THE NIGHT BEFORE HE DIED: A deeply touching image of the Last Supper by Egino Weinert, a fine medalist whose work may be seen at the Vatican.
BACK IS IN GERMAN: ENGLISH TRANSLATION: Do you believe in God, the Father almighty, the Creator of Heaven and Earth? I believe! Do you believe in Jesus Christ, His only begotten Son, our Lord, born of the Virgin Mary, who suffered, was buried, rose from the dead, and now sits at the right hand of the Father? I believe! Do you believe in the Holy Spirit, the holy Catholic Church, the Community of Saints, the forgiveness of sins, the Resurrection fo the dead, and life everlasting? I believe!
GERMAN: (Glaubst Du an Gott, den Vater den allmaechtigen Schoepfer des Himmels und der Erde? Ich glaube! Glaubst Du an Jesus Christus seinen eingeborenen Sohn unseren Herrn, der geboren ist von der Jungfrau Maria, der gelitten hat und begraben wurde, von den Toten auferstanden und zur Recthen des Vaters sitzt? Ich glaube! Glaubst Du an den Heiligen Geist, die heilige Katholische Kirche, die Gemeinschaft der Heiligien, die Vergebung der Suenden, die Auferstehung der Toten und das Ewige Leben? Ich glaube!
---
Luke 22:14-20
When the hour had come, Jesus reclined at the table, and the apostles with Him. And He said to them, "I have earnestly desired to eat this Passover with you before I suffer; for I say to you, I shall never again eat it until it is fulfilled in the kingdom of God." And when He had taken a cup and given thanks, He said, "Take this and share it among yourselves; for I say to you, I will not drink of the fruit of the vine from now on until the kingdom of God comes."
AN EXCELLENT GIFT FOR THOSE RECEIVING CONFIRMATION, NEW MEMBERS ENTERING THE CHURCH, BAPTISMS, FIRST HOLY COMMUNION, SEMINARIANS, PRIESTS, PARENTS, WEDDING GIFTS OR ANNIVERSARIES, BIRTHDAYS – THE LIST GOES ON!
---
ABOUT EGINO WEINERT: World renowned German artist, Egino Weinert, is a master in the field of sacred gold smithery, as well as a painter and sculptor. He has consigned pieces of art for Cathedrals and Churches throughout the world and is a favorite of John Paul II. Several of Mr. Weinert's original enamel works may be seen in the Galleria Moderna of the Vatican Museum.
Part of our Creator Mundi Collection.
---
PRICING SUBJECT TO CHANGE WITHOUT NOTICE: (pricing determined at time of casting)
AVAILABLE IN BRONZE ONLY:
GWC.6003 = $67 (Regular) Your Special Sale Price = $65.00
ONLY (1) LEFT IN STOCK (AVAILABLE TO BACK ORDER – ALLOW 1-2 WEEKS)
*NOTE:  THIS PRODUCT MAY REQUIRE ADDITIONAL POSTAGE FOR SHIPPING, DUE TO THE SIZE & WEIGHT OF THE ITEM. (It may have to be shipped USPS Priority Mail instead of First Class Mail) If so, you will be quoted the price in your order confirmation. 
(actual size: 4 in. H x 3.1875 in. W)
PRICING SUBJECT TO CHANGE WITHOUT NOTICE: (pricing determined by gram wt of metals at time of casting)