'ORANS' TO PRAY CROSS – Italy / Catacombs 3c-5c (1.75 in.) – ECRO.738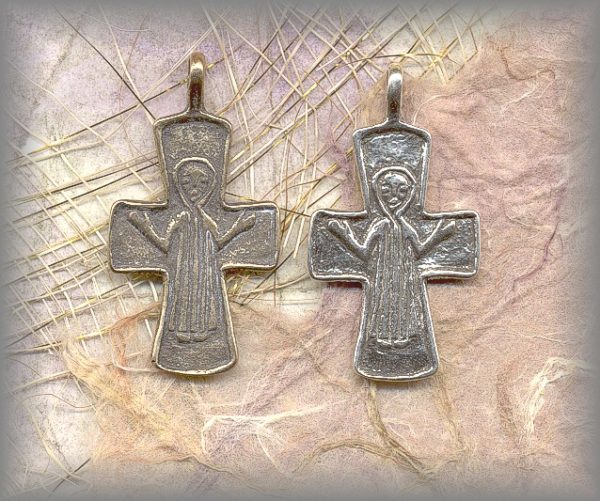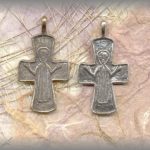 Description
ORANS (to pray) comes from the position of the hands during ancient prayer. (Now we see the Priest use this position during the Mass and it is also becoming more popular with laity as a prayer position).
---
THE IMAGE IN THE CROSS: A very common 3rd and 4th fresco as seen in the Catacombs of Rome, this figure could represent several possibiliteis: 1. The figure of Mary, praying for the soul of the deceased buried in that spot or 2. the 'feminine' side of the person who was buried there. This could be a male or female. (Tradition on medal crosses was to show Mary on one side and Christ on the other).
---
ABOUT OUR MEDALS: All medals on our website are hand cast from antiques and vintage pieces in sterling silver and solid bronze then antiqued to restore original patina.
---
PRICING SUBJECT TO CHANGE WITHOUT NOTICE: (pricing determined by gram wt of precious metal at time of casting)
BRONZE = $21 (shown left)
STERLING = $29  (shown right)
(actual size: 1.75 in. H x .9375 in. W, including bail)
PRICING SUBJECT TO CHANGE WITHOUT NOTICE: (pricing determined by gram wt of metals at time of casting)