PATH TO LIFE – antiqued bone discs & carved bone / red jasper – rosary – (12 mm – 20 in.) – RMI.2830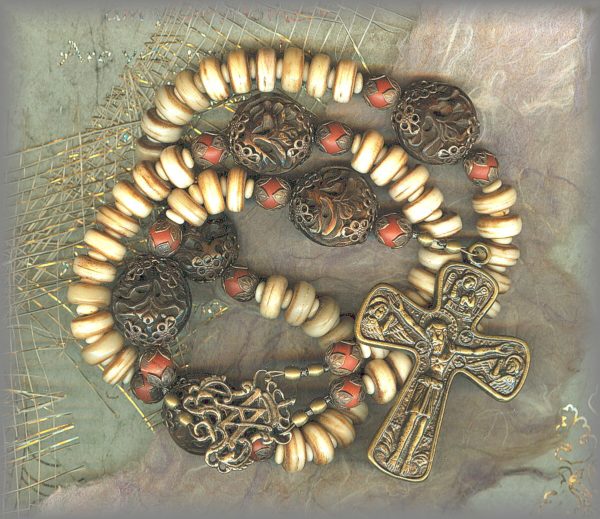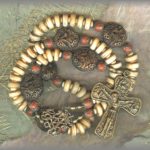 Description
MUSEUM INSPIRED SERIES: "PATH TO LIFE'
AVE BEADS:  Antiqued bone discs. Prayer counter that appear to be German in origin and evidence of the their use dates back to the 15th- 19th century.
PATER BEADS: Hand carved and dyed bone with filigreed caps.  Note red jasper on either side of Pater beads to add rich, symbolism to the Path of Life name of this rosary.
CRUCIFIX:  THREE ANGELS TEND JESUS – Europe/Age Unknown – (2.75 in.)
CENTER: AVE MARIA CROWN CENTER – late 1800s – Spain / Latin America – (.75 in.
---
…. 1 Keep me safe, O God; in you I take refuge 2 I say to the Lord, you are my Lord, you are my only good. 3 Worthless are all the false gods of the land. Accursed are all who delight in them. 4 They multiply their sorrows who court other gods. Blood libations to them I will not pour out, nor will I take their names upon my lips. 5 LORD, my allotted portion and my cup, you have made my destiny secure. 6 Pleasant places were measured out for me; fair to me indeed is my inheritance. 7 I bless the LORD who counsels me; even at night my heart exhorts me …PSALM 16:1-7
---
INSPIRATION: Inspired by antique rosaries and chaplets in European museums and books from the 16c up. We recently saw a great image of a Priest from the 12c with this style prayer counter in his hands, see – (priest shunjobo chogen.)
Working with rare components does make a difference in the finished design. Crucifixes, rosary centers and religious medals cast from antiques in sterling and bronze along with hard to find antique beads (or those inspired by them) do make the difference. But most of all, it is in the way a designer chooses to put it all together. These old rosaries and chaplets from the 16 – 19c speak to the heart in a special way, regardless if they were put together by an artist or by a guild – or simply by someone who took what they had and strung it into a prayer chain. But the results are so beautiful that they are now resting in museums all over Europe
---
ALL OUR MEDALS: All our medals are handcast from antiques and vintage pieces in sterling silver and solid bronze then antiqued to restore original patina.
---
PRICING SUBJECT TO CHANGE WITHOUT NOTICE. (pricing determined by gram wt of precious metal at time of casting)
20% DISCOUNT APPLIED BELOW UNTIL GONE
BRONZE: ($316) your special price $252.80
STERLING: ($576) your special price $460.80 -SOLD OUT
PRICING SUBJECT TO CHANGE WITHOUT NOTICE: (pricing determined by gram wt of metals at time of casting)