RAINBOW CALSILICA ROSARY -Calsilica & Salwag (20 in.) sRW.21912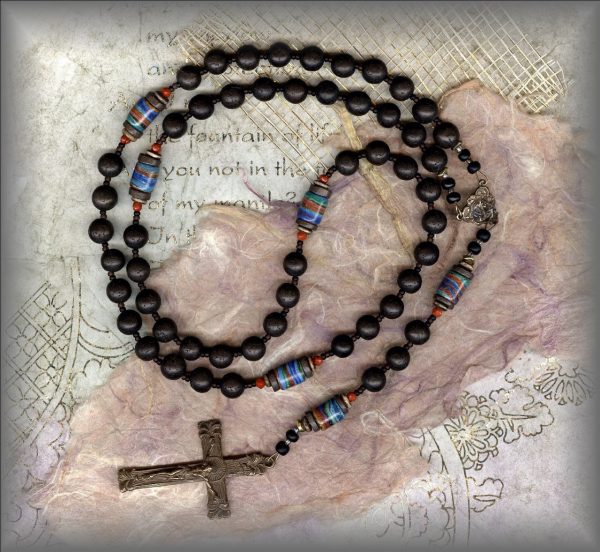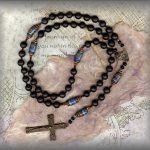 Description
RAINBOW CALSILICA AND SALWAG SEED
AVE BEADS: 8m Salwag deep rich brown seed which are carved from the nut of the salwag tree.
PATER BEADS:  8 x 9m Tubes of rare Rainbow Calsilica
CRUCIFIX & CENTER: Lily floral Rosary Set – Europe/1930's. (2 in.)
---
RAINBOW CALSILICA: This is a new "mystery material' on the market about which little is known. But what we do know is that it is a magnificent collection of layered colors and is very popular with jewelry designers. (Especially favored by Southwestern Artists)
It has been available since 2002. We found this is 2004 and the vender at that time did not know much about it. She said she was told it was sludge left over from the mining process.
In our research we have discovered that it's coming in from outside the US (Mexican mines) where it is being cut into slabs then shipped to the US and processed by Colbaugh Processin Inc. (Kingman Arizona) where it is stabilized so it may be made into jewelers cabs and beads along with blocks for carving art form.
NATURAL MATERIAL: There are contrasting theories surrounding its identity but this does not seem to effect its popularity or its beauty. Our newest Vender who specializes in semi precious stones believes it occurs naturally and is not a by product of the mining process. It appears to be a byproduct of volcanic action along with rhyolite and described as "vein matter" or "fracture fillings".
---
ABOUT OUR MEDALS: All our medals are handcast from antique and vintage pieces in sterling silver and solid bronze then antiqued to restore original patina.
---
PRICING SUBJECT TO CHANGE WITHOUT NOTICE. (pricing determined by gram wt of metal at time of casting)
50% DISCOUNT APPLIED BELOW UNTIL GONE
BRONZE: ($158) your special price $79
STERLING: ($236) your special price $118
PRICING SUBJECT TO CHANGE WITHOUT NOTICE: (pricing determined by gram wt of metals at time of casting)