ROCKY COAST III – ST. PAUL ROSARY – Fushite chunks – (20 in.) – RDSP.21780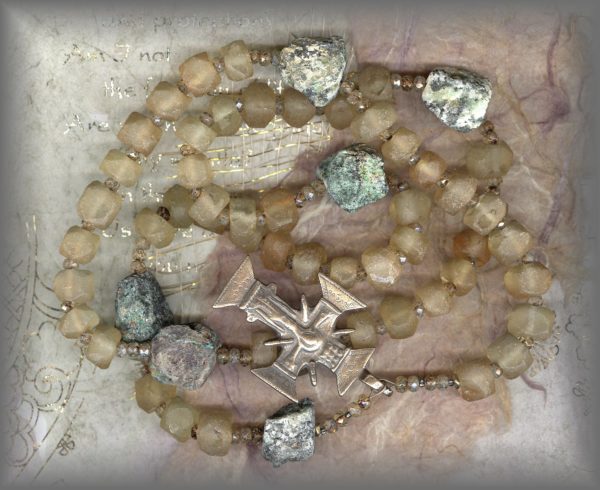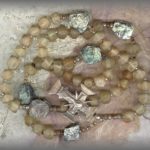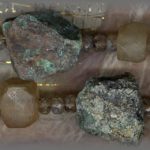 Description
ROCKY COAST III:DEDICATED TO PAUL OF TARSUS
AVE BEADS: Old, recycled glass and are very matte, not showing any small flashes of light (caused by camera) when held in the hand.
PATER BEADS: 'Fushite' chunks of stone with silver or gold inclusions of mica/aventurine flakes that reflect light, making it hard to photograph
CRUCIFIX:  HIM CRUCIFIED – Russia, 1700s (2 in.)
Made in the traditional "all one loop" design.
A LARGE, CHUNKY ROSARY
---
Drawn from the earth by the hands of man, yet formed by the word of God eons ago – We love their natural state, 'hand faceted', sometimes called 'mine cuts', give a rare and beautifully simple appearance.
It is believed that the birth of St Paul was between the years of 7 and 10 and according to historians.
He shed blood in shipwrecks, prisons and eventually beheaded, martyred in Rome and we hope we have captured the essence of the life of Paul in the dedication of these rosaries. Our priest Father Corey weighed this one in his hands when were first made it and grinned at its power. It is not for the weak of heart! This rosary is sturdy and is heavy but wonderful to pray!
We celebrate 2 major feasts in honor of St Paul. the first is on 25 January, THE FEAST OF PAUL'S CONVERSION and the second on June 29 (Sts Peter and Paul).
---
……Five times, I have received at the hands of the Jews the forty lashes less one. Three times I have been beaten with rods; once I was stoned. Three times I have been shipwrecked; a night and a day I have been adrift at sea; on frequent journeys, in danger from rivers, danger from robbers, danger from my own people, danger from Gentiles, danger in the city, danger in the wilderness, danger at sea, danger from false brethren; in toil and hardship, through many a sleepless night, in hunger and thirst, often there is the daily pressure upon me of my anxiety for all the churches. Who is weak, and I am not weak? Who is made to fall, and I am not indignant? If I must boast, I will boast of the things that show my weakness.'…..2 CORINTHIANS 11:24-30
---
ABOUT OUR MEDALS: All our medals are handcast from antiques and vintage pieces in sterling silver and solid bronze then antiqued to restore original patina
---
PRICING SUBJECT TO CHANGE WITHOUT NOTICE. (pricing determined by gram wt of precious metal at time of casting)
20% DISCOUNT APPLIED BELOW UNTIL GONE:
BRONZE: ($224) your special price $179.20
STERLING: ($252) your special price $201.60
PRICING SUBJECT TO CHANGE WITHOUT NOTICE: (pricing determined by gram wt of metals at time of casting)