ROSARY BOX – hand crafted wood (5.75 L x 3.5 W x 1.5 in. H) – TB.97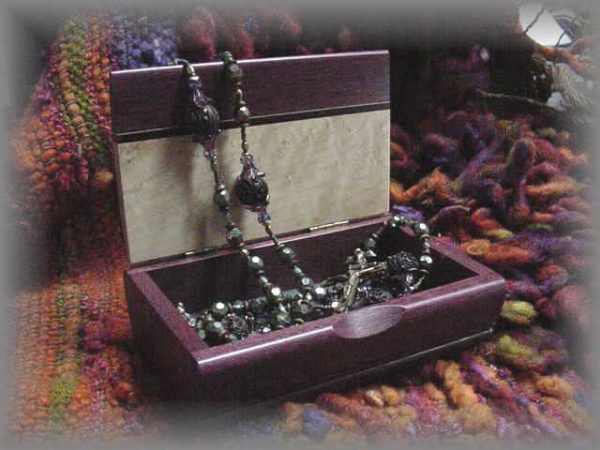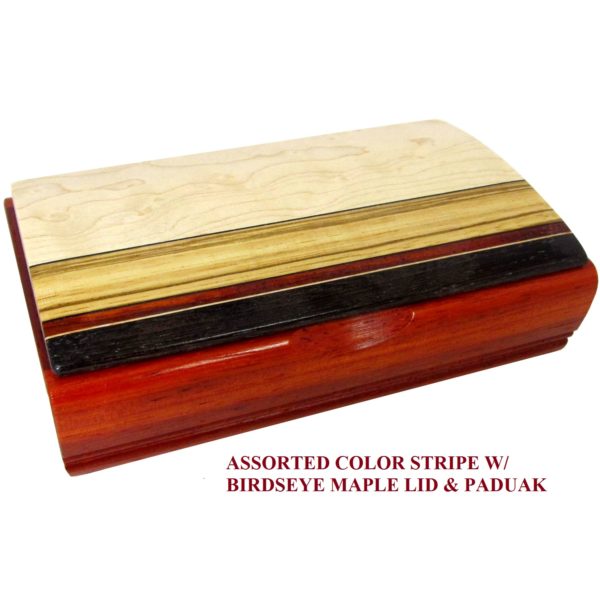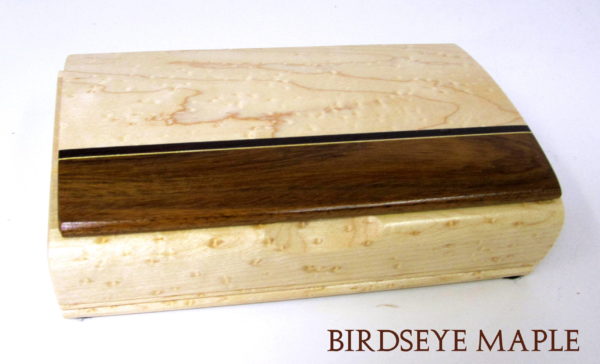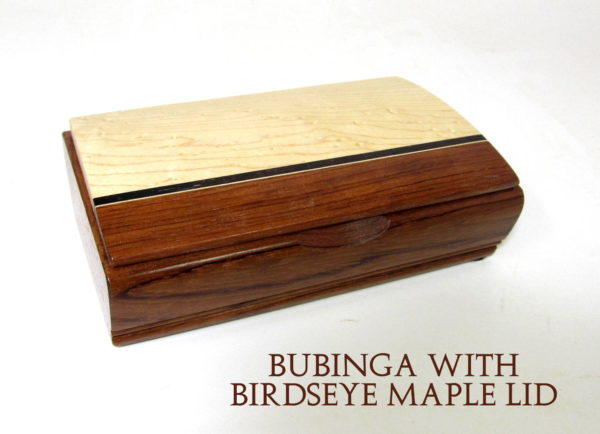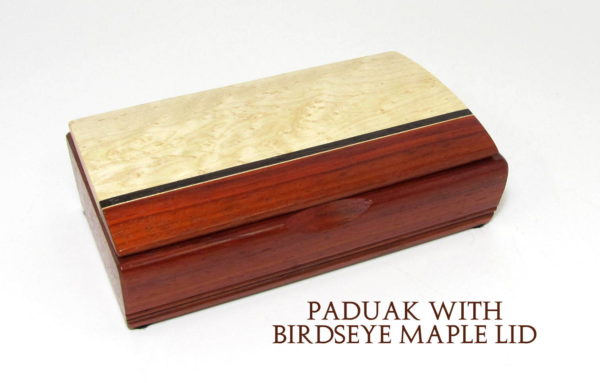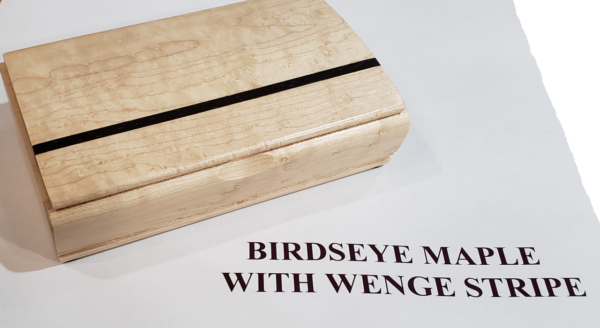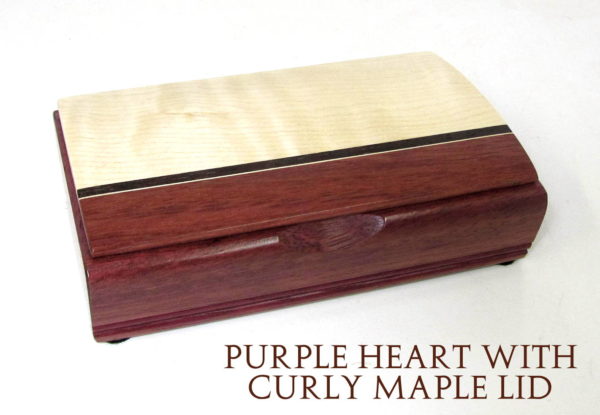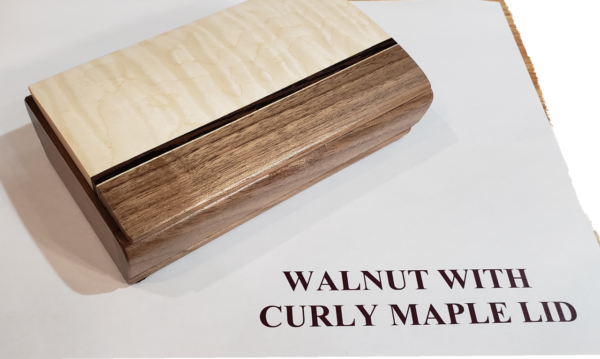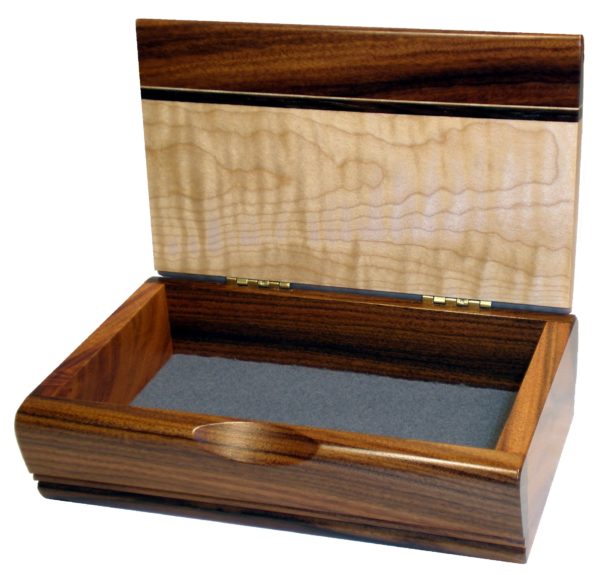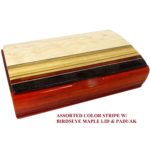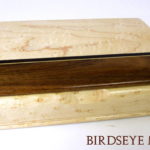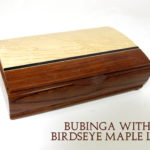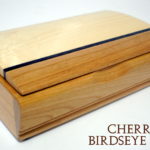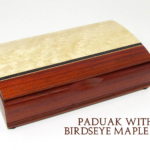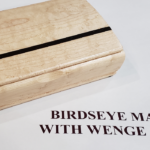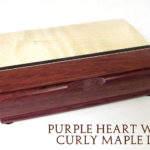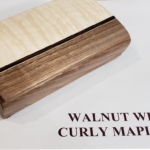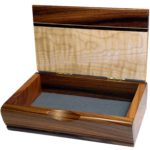 Description
ROSARY BOX: PURPLE HEART WITH CURLY MAPLE LID (as shown). A beautiful handmade box perfect for storing your rosary, chaplet or jewelry in.  A variety of colorful hardwood lid accents in an array of wood types and patterns provide spice and contrast for the discerning eye in these darling lined wooden treasure boxes. These contrasting wood species echo the diversity found in nature yet result in each wood box being a unique, one-of-a kind piece in which to place treasures. A perfect gift for a Wedding, Anniversary, Confirmation, Birthday or any Special Occasion!!
Make your box truly special by adding a laser engraved family name & date or favorite quote onto the lid.
We discovered these beautiful boxes by Mikutowski Woodworking, several years ago. Mikutowski was commissioned to make the Memorial Pentagon boxes for those families who lost members of their family on Sept 11, 2001. Years ago we purchased one of their hand crafted boxes for a family member at a California Art Gallery and had no idea they were neighbors of ours, located just across the river! God is sooooo good!
---
ABOUT MIKUTOWSKI WOODWORKING: The name Mikutowski is synonymous with quality, craftsmanship and unmatched attention to detail. It is our pleasure to offer the finest combination of natural materials, masterful craftsmanship and timeless quality which will be enjoyed for generations to come.  Control over every aspect of craftsmanship is evident in each elegant box. As a product of nature, wood is intrinsically warm and unique. Variations in wood color and grain will naturally occur.
For more information on other products of Mikutowski Woodworking please visit the following link to their website:  https://www.mikutowskiwoodworking.com/
---
PRICING SUBJECT TO CHANGE WTIHOUT NOTICE:
MUST CALL OR EMAIL TO PLACE ORDER FOR AVAILABILITY OF DESIGNS/COLORS OF ROSARY BOXES FROM SUPPLIER – NOT ALL DESIGNS AVAILABLE AT ALL TIMES.  (Note:  We do keep a small supply on hand, but can order from supplier fast if needed).
TB.97  =  $55
NOTE:  May be engraved, 2 short lines for $5.  Please email names, dates, words to attention of Tina at: rosaryworkshoptl_02@hotmail.com
ROSARY BOX (shown) actual size: (5.75 in. L x 3.5 in. W x 1.5 in. H)
PRICING SUBJECT TO CHANGE WITHOUT NOTICE: (pricing determined by gram wt of metals at time of casting)