SACRED HEART X ROSARY- 'blood and water' – (25 in.) – RWSP.21604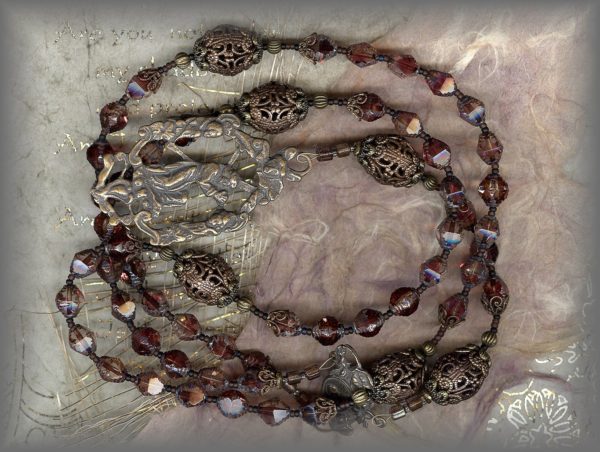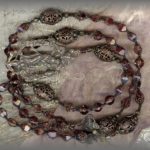 Description
"BLOOD AND WATER' – Sacred Heart Series
AVE BEADS: rare faceted bicone beads- note slashed edges reminding us of the wounds of Christ. When held in the hand, the light brings forth a mix of blood and water.
PATER BEADS: Antiqued filigree metal beads, each framed with metal caps remind us of the strength and love of the Father.
CRUCIFIX:  Lg VIA DOLOROSA – Spain/19cs – (2.6250 in. H x 1.4375 in. W)
CENTER:  MARY / LILY (new) – EUROPE / late 19 c – ( 1.5 in. )
---
…….33 But when they came to Jesus and saw that he was already dead, they did not break his legs, 34 but one soldier thrust his lance into his side, and immediately blood and water flowed out. 35 An eyewitness has testified, and his testimony is true; he knows that he is speaking the truth, so that you also may (come to) believe. 36 For this happened so that the scripture passage might be fulfilled: "Not a bone of it will be broken." 37 And again another passage says: "They will look upon him whom they have pierced."…JOHN 19:33-3
---
ABOUT OUR MEDALS: All medals, crucifixes and crosses are hand cast from antiques and vintage pieces in sterling silver and solid bronze then antiqued to restore original patina.
---
PRICING SUBJECT TO CHANGE WITHOUT NOTICE (pricing determined by gram we of precious metal at time of casting)
20% DISCOUNT APPLIED BELOW UNTIL GONE
BRONZE: ($270) your special price $216
STERLING: ($456) your special price $364.80
PRICING SUBJECT TO CHANGE WITHOUT NOTICE: (pricing determined by gram wt of metals at time of casting)