SEA of FAITH & TRUST ROSARY- (Pounding Sea) – Lampwork (22 in) – RAA.2813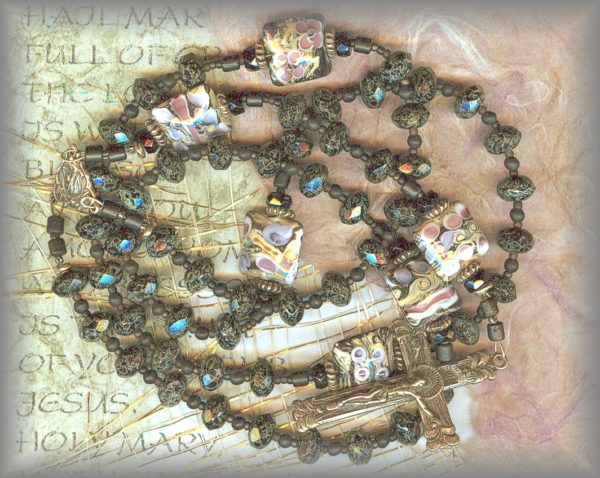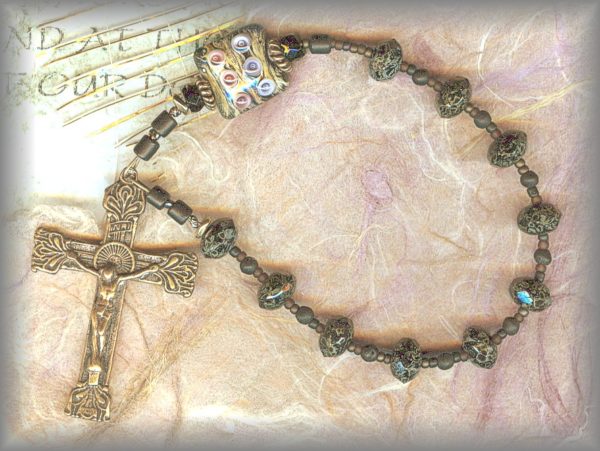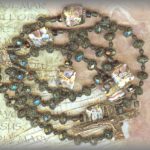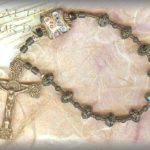 Description
SEA OF 'PETER'S FISH' / POUNDING SEA:
AVE BEADS: The faceted jet glass Ave beads, also called 'picasso' beads are not as defined as the eye of the camera picked up but add more natural depth than if they were solid black, Very, very, subtle.
PATER BEADS: This hand made Pater bead is lovely, the earth tone colors are reminders of the shore pounded by the sea, waves and churning foam, sand, rocks and sky above. If you look hard enough you might even see little flowers floating freely on the surface of the swirling waters that were blown in the wind. No two alike.DESIGN IS NOT PAINTED ON: Note that every color you see is a different piece of glass, there is nothing painted on the surface.
CRUCIFIX & CENTER: LILY – FLORAL ROSARY SET – Europe/1930's – (2 in.)
---
Lampwork Designed and made by American Bead Artist Grace Ma. We were delighted to see how beautifully her designs tell the story of water as they swirl in earth tones from rose, blue, sand and lava. these Paters are like miniature works of art and no two are ever the same. And yes, there is a fish in the Sea of Galilee called 'Peter's Fish' and it is served with its head and tail!
---
… A squall blew over the lake, and they were taking in water and were in danger. 24 They came and woke him saying, "Master, master, we are perishing!" He awakened, rebuked the wind and the waves, and they subsided and there was a calm. 25 Then he asked them, "Where is your faith?"….. LUKE 8:23
---
ABOUT OUR MEDALS: All our medals are hand cast from antiques in sterling silver and solid bronze then antiqued to restore original patina.
---
PRICING SUBJECT TO CHANGE WITHOUT NOTICE. (pricing determined by gram wt of precious metal at time of casting)
20% DISCOUNT APPLIED UNTIL GONE
ROSARY
BRONZE: ($334) your special price $267.20
SILVER: ($472) your special price $397.60
WHITE BRONZE ($322) your special price $265.60
CHAPLET
BRONZE: ($122) your special price $97.60
SILVER: ($212)  your special price $169.60
PRICING SUBJECT TO CHANGE WITHOUT NOTICE: (pricing determined by gram wt of metals at time of casting)