SERAPHIC ROSARY- Antique Beads & Faceted Tourmaline – (26 in.) – RDSP.2830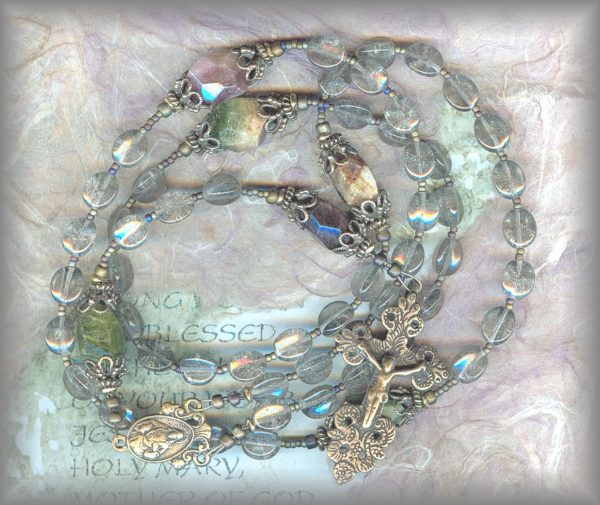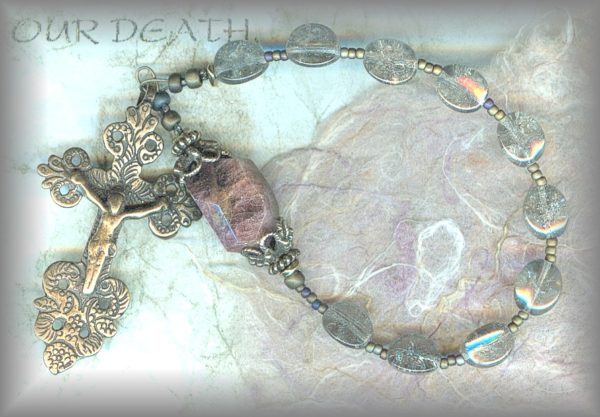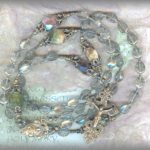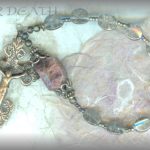 Description
FRANCISCAN CROWN, ALSO KNOWN AS THE SERAPHIC ROSARY AND THE SEVEN JOYS OF MARY. (7 sets of 10 beads)
AVE BEADS: Rare antique crackle beads in dove gray, three sides, perfect for the praying fingers. (Gablonz – 1930-60). Truly beautiful, very rare, unable to replace.
PATER BEADS: Faceted tourmaline, each one is rare and beautiful, no two alike. Great striations of color seen in tourmaline, deep rose, cream and mossy green. Capped with hand cast caps (design dates back to the 16c or earlier – as seen on museum rosaries) Very, very limited and unable to replace when gone.
CRUCIFIX:  SMALL CHILD'S CRUCIFIX – New Spain, 1700s (2.25 in. H x 1.25 in. W)"
CENTER: SCAPULAR / CARMEL CENTER – antique, Europe/early 20c (I in.) – RC.50
---
Dates back to the 1400's (1422) and is prayed by all three orders of Franciscans including many others who love the prayer.
---
………..3 Trust in the LORD and do good that you may dwell in the land and live secure. 4 Find your delight in the LORD who will give you your heart's desire. 5 Commit your way to the LORD; trust that God will act And make your integrity shine like the dawn, your vindication like noonday. 7 Be still before the LORD; wait for God…….PSALM 37:3 -7
---
ABOUT OUR MEDALS: All our medals are handcast from antiques and vintage pieces in sterling silver and solid bronze then antiqued to restore original patina.
---
PRICING SUBJECT TO CHANGE WITHOUT NOTICE. (pricing determined by gram wt of precious metal at time of casting)
20% DISCOUNT APPLIED BELOW UNTIL GONE
ROSARY:SERAPHIC (7 sets of 10)
BRONZE: ($476) your special price $380.80
STERLING: ($612) your special price $489.60
ROSARY: STANDARD (5 decade)
BRONZE: ($398) your special price $318.40
STERLING: ($522) your special price $417.60
CHAPLET: (standard 10 Ave beads plus Pater)
BRONZE: ($160) your special price $128
STERLING: ($208) your special price $166.40
PRICING SUBJECT TO CHANGE WITHOUT NOTICE: (pricing determined by gram wt of metals at time of casting)