SEVEN SORROWS OF MARY MEDAL – age, origin unknown (1.5 in.) – SS.MHW.002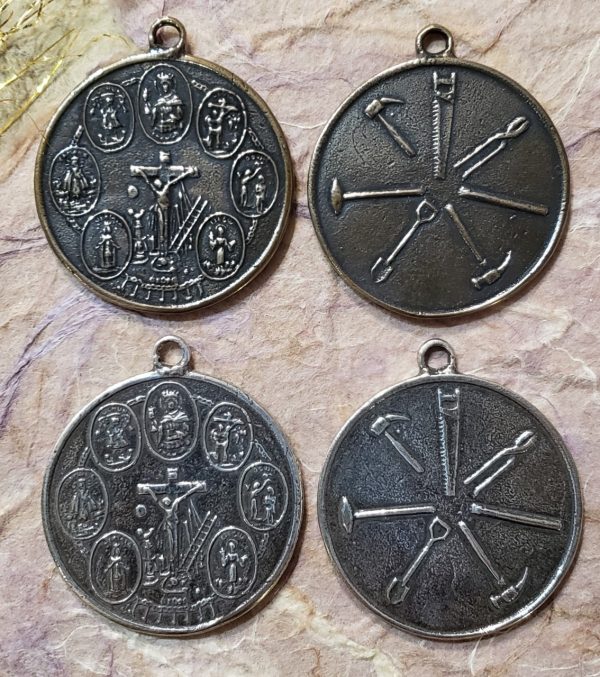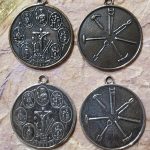 Description
SEVEN SORROWS OF MARY MEDAL: A magnificent medal of Our Lady of 7 Sorrows which can be hung on a chain or used in rosary or jewelry making. The front side has the depiction of the 7 Sorrows of Mary and the reverse side shows the tools of crucifixion. A Magnificent piece.
Part of our Samsara Collection.
---
The Seven Sorrows of Mary chaplet 7 sets of 7 beads are dedicated to the following:
SEVEN SORROWS OF MARY
1. The Prophecy of Simeon
2. The Flight into Egypt
3. The Loss of Jesus in the Temple
4. Mary meets Jesus Carrying the Cross
5. The Crucifixion
6. Mary Receives the Dead Body of Her Son
7. The Burial of Her Son and Closing of the Tomb
---
ABOUT OUR MEDALS:  All medals on our website are hand cast from antiques and vintage pieces in sterling silver and solid bronze then antiqued to restore original patina.
---
PRICING SUBJECT TO CHANGE WITHOUT NOTICE: (pricing determined by gram wt of precious metal at time of casting)
*NOTE:  ONLY A LIMITED AMOUT OF PIECES LEFT!  TO BE DISCONTINUED, WE WILL NOT BE GETTING RECAST!
BRONZE = Reg. ($30) your special price = $25 (shown top)  *ONLY (27) BRONZE LEFT IN STOCK
STERLING = Reg. ($60) your special price = $49 (shown bottom)  *ONLY (15) STERLING LEFT IN STOCK
(actual size: 1.5625 in. H x 1.3750 in. W, including bail)
PRICING SUBJECT TO CHANGE WITHOUT NOTICE: (pricing determined by gram wt of metals at time of casting)