SMALL SAN DAMIANO CRUCIFIX – Europe/19c (1.5 in.) – ECRX.685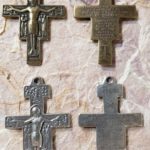 Description
SMALL SAN DAMIANO CRUCIFIX (ST FRANCIS OF ASSISI) The cross that God spoke through to tell Francis to 'go rebuild my church' This rare, hard to find antique medal is old and worn, age unknown. (Original of this crucifix may be seen in Assisi (Italy) at the Basilica of St Clare.
Part of our Equatoria Collection.
ST FRANCIS BLESSING: ON BACK (In Latin) Translated (English) "May the Lord bless you and keep you. May He show His face to you and be merciful to you. May He turn His countenance to you and give you peace. The Lord bless you". [originally addressed to Brother Leo]
ST FRANCIS' SIGNATURE: Back shows the blessing with the Tau cross that was Francis' signature. Note the base of the 'Tau' cross comes out of an irregular rectangle which represents the grave of Adam. You can see the skull inside of the grave. Again, this was the traditional signature of Francis as it was the ancient belief that Christ was crucified over the ancient grave of Adam/ It symbolizes Christ's victory over death. Read more in our history section.
NOTE: This is the smaller size. We also have a medium and large size. (ECRX.789 – MEDIUM) http://ait.devops.design/domains/wp/rosaryworkshop2/product/medium-san-damiano-crucifix-europe-19c-1-75-in-ecrx-789/ or (CRX.92 – LARGE) http://ait.devops.design/domains/wp/rosaryworkshop2/product/lg-san-damiano-crucifix-europe-19c-2-5-in-crx-92/  Note: Both Small & Large have prayer on back. (Medium does not).
---
ABOUT OUR MEDALS: All medals on our site are hand cast in sterling silver or solid bronze from antiques and vintage pieces then antiqued to restore original patina.
---
PRICING SUBJECT TO CHANGE WITHOUT NOTICE: (pricing determined by gram wt of metals at time of casting)
BRONZE = $13  (shown top)
STERLING = $23  (shown bottom)
(actual size: including bale = 1.6250 in. H x 1.0625 in. W)
PRICING SUBJECT TO CHANGE WITHOUT NOTICE: (pricing determined by gram wt of metals at time of casting)