SMALL TRADE CROSS – Europe / 1804 (1 in.) – CRX.97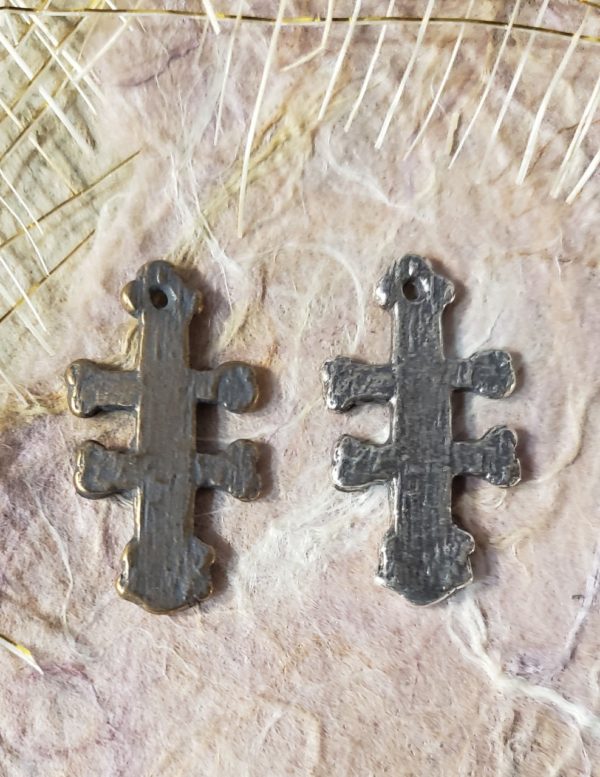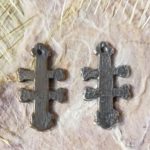 Description
SMALL TRADE CROSS (Double bar Cross of Lorraine) – these little trade crosses were very popular with the indians, especially the Objibwe who traded them for beaver pelts and supplies with the trappers. The indians prized them and wore them as earrings. These were very thin so we backed two together for strength, making sure both original slices, front and back were showing.
FORTS FOLLE AVOINE HISTORIC PARK WISCONSIN (1803 – 1804) Found at Yellow River, Grand Portage (WI) on Lake Superior, north shore in an undisturbed site. The 2 Trading posts left in 1805 and structures were burned so they could not be used by others. (Two fur trade posts: NORTHWEST CO. and XY COMPANY. (documented by OERICHBAUER, Archaeological studies)
The FORTS FOLLE AVOINE HISTORIC PARK is open to visitors from Memorial Day to Labor Day and is near Danbury WI.
---
ABOUT OUR MEDALS: All medals on our site are hand cast in sterling silver or solid bronze from antiques and vintage pieces then antiqued to restore original patina.
---
PRICING SUBJECT TO CHANGE WITHOUT NOTICE: (pricing determined by gram wt of metals at time of casting)
BRONZE = $8  (shown left)
STERLING = $30  (shown right)
(actual size: 1.1875 in. H x .6250 in. W, including bail)
PRICING SUBJECT TO CHANGE WITHOUT NOTICE: (pricing determined by gram wt of metals at time of casting)