ST ANDRE BESSETTE / ST JOSEPH KEY MEDAL – Canada (1.25 in) – MSBK.01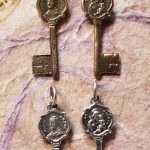 Description
ST ANDRE BESSETTE / ST JOSEPH KEY MEDAL – Brother André, now St André Bessette CSC (Oct 17 2010) was born Aug 9 1845 and died at 92, Jan 6 1937. Feast Day 6 January. This little key with André Bessette on one side and St Joseph on the other is a wonderful reminder of who he was and his love for St Joseph's Healing Oil.
---
ONLY A PORTER: "He was only a porter 'a doorman' at a college owned and operated by his religious congregation. He was a little man, both in size and, if one were to judge by appearance, in importance. He was not a priest; therefore he could neither offer Mass nor preach. Because of poor education, he did not know how to read or write until he reached the age of twenty-five."(Catholicism.org)
---
ST JOSEPH'S OIL: Yet he was devoted to St. Joseph and was inspired by the ancient tradition of anointing with oil. He would take the oil from the lamp burning in front of the statue of St Joseph to anoint the sick around him. Through this desire for St Joseph to receive the glory as the intercessor, people were healed.
---
ASK ST ANDRE TO INTERCEDE: Please ask St André Bessette to intercede for you through St Joseph for the healing of your loved one or friend. Pray for his mission and remember him in your prayers, especially when you pray your rosary.
LUKE 10:33-34: 33 But a Samaritan traveler who came upon him was moved with compassion at the sight. 34 He approached the victim, poured oil and wine over his wounds and bandaged them.
REMEMBER BROTHER ANDRE.
HONOR ST JOSEPH.
BRING GLORY TO GOD
ADD ONE TO YOUR ROSARY –  SEE our rosaries dedicated to the saints and the healing oil. At the following link:  https://store.rosaryworkshop.com/?s=rdba&post_type=product
---
ABOUT OUR MEDALS:  All medals on our website are hand cast from antiques and vintage pieces in sterling silver and solid bronze then antiqued to restore original patina.
---
PRICING SUBJECT TO CHANGE WITHOUT NOTICE:  (pricing determined by gram wt of metals at time of casting)
BRONZE = $6  (shown top)
STERLING = $16  (shown bottom)
(actual size: 1.3125 in. H x .3750 in. W, including bail)
PRICING SUBJECT TO CHANGE WITHOUT NOTICE: (pricing determined by gram wt of metals at time of casting)