ST BENEDICT DEVOTIONAL CHAPLET – 3 sets of 3 Carved Wood Beads – (6.5 in.) – C9.STBE.5501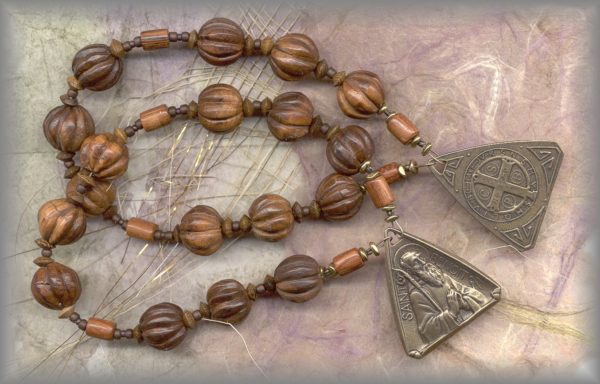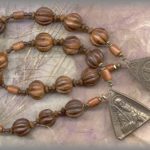 Description
ST BENEDICT DEVOTIONAL:
BEADS: Hand carved wooden beads.
MEDAL:ST BENEDICT TRIANGLE – antique, France/age unknown – (1.5 in.)  Triangular Medal of St Benedict carries the prayer of exorcism. It is worn around the neck, added to a rosary and often set in the foundation of a home for protection.
Chaplet is made in the traditional 3 sets of 3 beads.
---
PRAYERS: On each set of 3 beads 1 each: Our Father Hail Mary Glory Be On the medal: ask for the intercession of this particular saint. Some people use this as a nine day novena by adding their petition at this time.
St Benedict (St. Benoit) born 480, is called upon for heavy duty prayer against evil and the medal is a prayer of exorcism. He is known as the Founder of Western Monasticism. (OSB). He is also the patron saint against poisoning.
---
ABOUT OUR MEDALS: All medals on our website are hand cast from antiques and vintage pieces in sterling silver and solid bronze then antiqued to restore original patina.
---
PRICING SUBJECT TO CHANGE WITHOUT NOTICE: (pricing determined by gram wt of metals at time of casting)
20% DISCOUNT APPLIED BELOW UNTIL GONE:
BRONZE: ($162) – your special price $129.60
STERLING: ($324) – your special price $259.20
PRICING SUBJECT TO CHANGE WITHOUT NOTICE: (pricing determined by gram wt of metals at time of casting)