ST BENEDICT OF NURSIA (Sisters of Bethlehem Statue) – (9 in) – CSBwm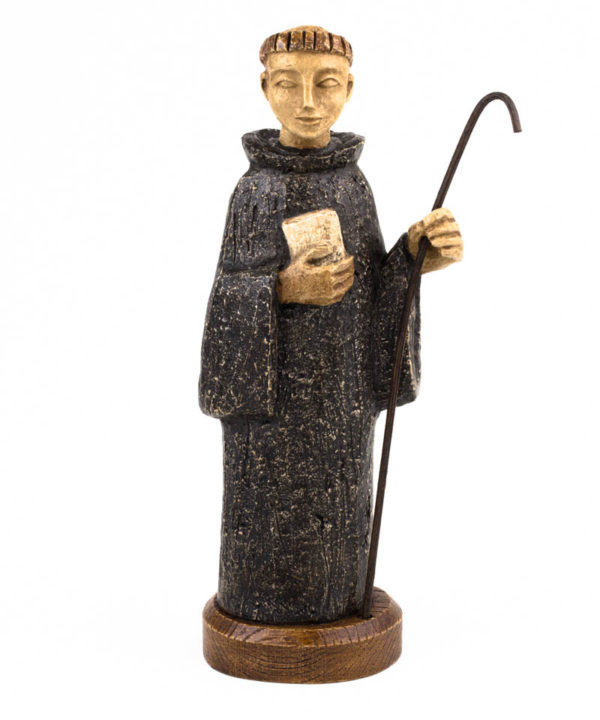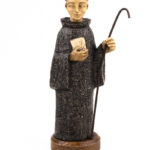 Description
ST BENEDICT OF NURSIA (born in Nursia, Italy c. 480 – died c. 547) He founded the monastery (Monte Cassino) that became the roots of the Church's monastic system. Instead of founding small separate communities he gathered his disciples into one whole community. Strong believer in the word of God.
"Christ – may bring us all together to life eternal" He was canonized in 1220.
---
ABOUT THE COMMUNITY OF THE SISTERS OF BETHLEHEM (France): The Monastère de Bethlèem: The Community of Bethlehem had its humble beginnings in a French stable over 50 years ago. Because of this, the sisters named their new monastery 'Bethlehem'. They chose St. Bruno of Cologne as their spiritual Father and took on the Gospel of silence and solitude as their spiritual focus. Each of these beautiful statues, use the local dolomite stone. It is crushed, mixed with resin and cast into each statue they make. Along with these wonderful statues, they also are known for their beautiful crèches and jewelry.
Part of our Creator Mundi Collection.
---
PRICING SUBJECT TO CHANGE WITHOUT NOTICE:
ST BENEDICT  =  $290  (OUT OF STOCK)
NOTE: This item is currently out of stock, but available to order from our Supplier and shipped to you directly. Please contact us to place your order today Toll Free @ 877-695-3561 or email rosaryworkshoptl_02@hotmail.com .
PRICING SUBJECT TO CHANGE WITHOUT NOTICE: (pricing determined by gram wt of metals at time of casting)