ST CECILIA CHAPLET (9 Bead) 2 Choices- CALLESTO CROSS – C9.CCW.52253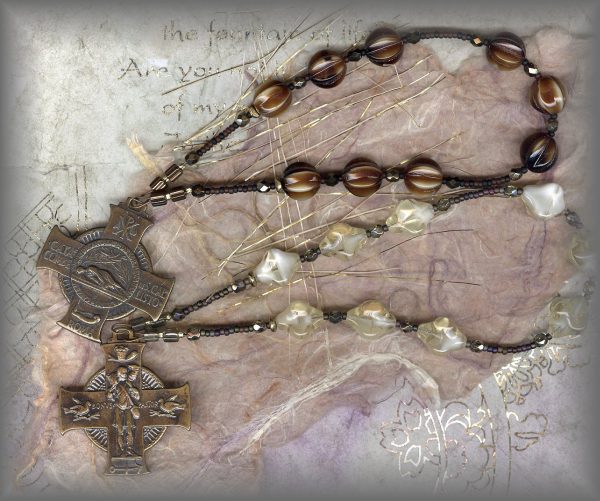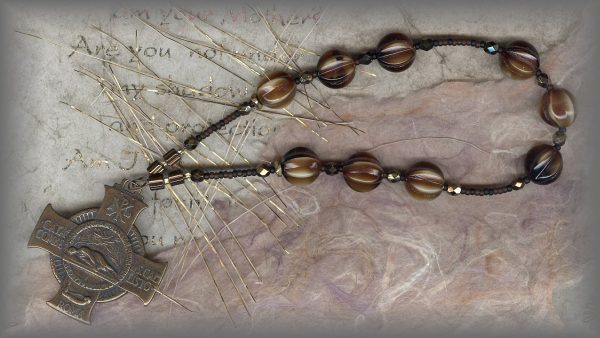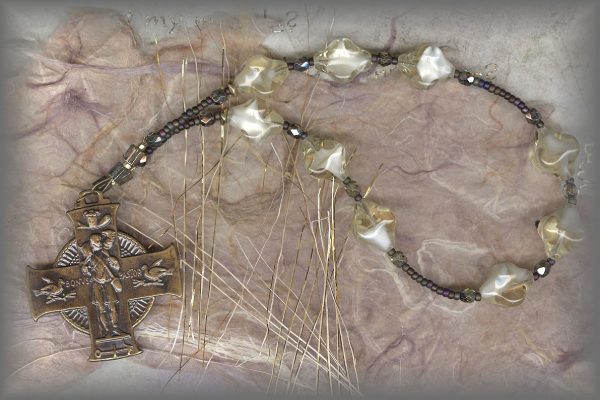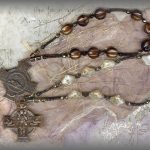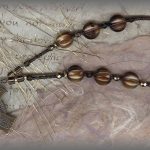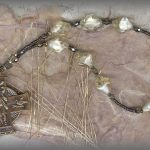 Description
ST CECILIA 9 BEAD  CHAPLET
Feast day- November 22
BEADS: 2 Choices:
14m  Antique pale yellow beads with white inclusions from (Germany) Gablonz.  Chaplet measures 7.5 Inches
Or
10m Antique brown and white swirl beads of high Czechoslovakian quality. Chaplet measures 7 inches.
MEDAL: ST CECELIA/GOOD SHEPHERD – vintage, unknown – (1.5 in.)" "CALLESTO CROSS" with image of St Cecelia from the St Callesto catacomb.
_________________________________________________________________
ABOUT ST CECILIA c 177 -Virgin and Martyr.  Her parents gave her in marriage to Valerian of Trastevere who honored her desire for remaining a virgin. Eventually he, along with his brother were baptized into the church. They were both martyred for the faith and Cecelia buried them in her villa on the Appian Way and was arrested because of it and was martyred.
They tried to suffocate her but were unsuccessful so she was beheaded. She was interred at the Catacomb Callisto (Rome) in 817 and there is a statue in the Catacombs of her lying down, 3 fingers out reaching, symbolizing the trinity. Her incorrupt body rests now in Trastevere.
On her wedding day, she sang a hymn in her heart for the love of Jesus, her true spouse, led her to become the patroness of musicians, singers and music.
ATTRIBUTES: lute, organ, musical instruments, roses.
_____________________________________________________________
PRAYERS FOR "NINERS":
On each set of 3 beads one each: Our Father Hail Mary Glory Be On the medal: ask for the intercession of St Michael and say the prayer of St Michael. Some people use this as a nine day novena by adding their petition at this time.
---
ABOUT OUR MEDALS: All medals on our website are hand cast from antiques and vintage pieces in sterling silver and solid bronze then antiqued to restore original patina.
---
PRICING SUBJECT TO CHANGE WITHOUT NOTICE: (pricing determined by gram wt of metals at time of casting)
20% DISCOUNT APPLIED BELOW UNTIL GONE
ANTIQUE PALE YELLOW
BRONZE: ($146) – your special price $116.80
STERLING: ($276) – your special price $220.18
ANTIQUE BROWN SWIRL
BRONZE: ($136) your special price $108.80
STERLING: ($266) your special price $212.80
PRICING SUBJECT TO CHANGE WITHOUT NOTICE: (pricing determined by gram wt of metals at time of casting)