ST JOSEPH w/CHILD JESUS FIGURAL MEDAL – vintage, age/origin unknown (1 in.) – SS.MJO.001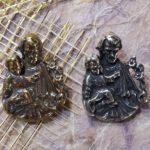 Description
ST JOSEPH WITH CHILD JESUS FIGURAL MEDAL: A beautiful figural image of St Joseph with the Christ Child in one arm and holding the traditional staff of Lilies. There is a bail or loop on the back so it may be worn on a cord or chain around the neck or used on a chaplet.  Feast March 19. He is the patron of The Universal Church, workers, against doubt and hesitation and a happy death.
Also SEE Center (SS.RC.015)   http://ait.devops.design/domains/wp/rosaryworkshop2/shop/st-joseph-child-jesus-figural-center-vintage-age-origin-unknown-1-25-in-ss-rc-015/
Part of our Samsara Collection.
---
ABOUT OUR MEDALS: All medals on our site are hand cast in sterling silver and bronze from antique and vintage pieces then antiqued to restore original patina.
---
PLEASE NOTE: When trying to match up SAMSARA pieces with NON-SAMSARA pieces we will personally help match them for you. Some of the metals/antiquing Samsara used in his old pieces do not match our own pieces, especially the Bronze can be very off color. Please contact us if you need help!
---
PRICING SUBJECT TO CHANGE WITHOUT NOTICE:  (pricing determined by gram wt of metals at time of casting) *(ONLY A LIMITED AMOUNT OF ORIGINAL SAMSARA PIECES LEFT!  NOT SURE IF WE WILL RECAST)
BRONZE = $11  (shown left)  *ONLY (43) BRONZE LEFT IN STOCK
STERLING = $20  (shown right)  *ONLY (9) STERLING LEFT IN STOCK
(actual size: 1.1250 in. H x .8125 in. W)
PRICING SUBJECT TO CHANGE WITHOUT NOTICE: (pricing determined by gram wt of metals at time of casting)