ST JUDE CHAPLET- Faceted Rhyolite Beads – (8.5 in.) – CSJD.51553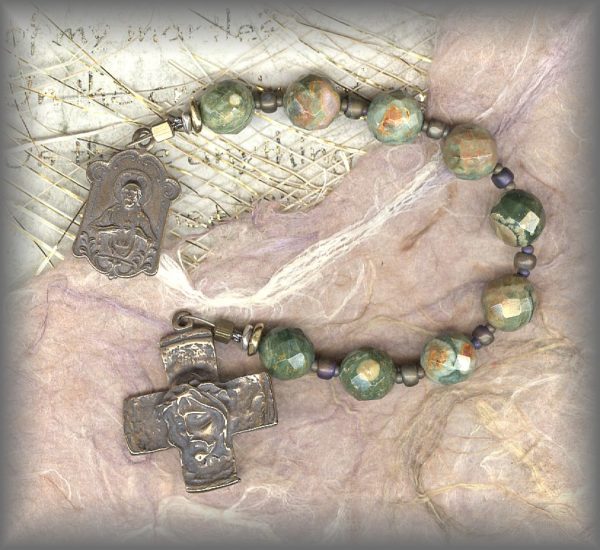 Description
RHYOLITE ST JUDE NOVENA CHAPLET
Tradional 9 bead or 10 bead option
BEADS: Rare faceted rhyolite beads are used in this traditional 9 bead chaplet for the novena of St Jude. Rhyolite is a by product of volcanic activity. A beautiful combination of colors, mossy greens, creamy whites and natural earth tones. Now and then you will see a coral red. Each bead is a one of a kind beauty!
MEDAL: FACE of JESUS – vintage, Italy/mid 20c – (1.25 in.)
MEDAL: SACRED HEART and ST JUDE – antique, Italy/1910's – (1.25 in.)
Your choice below of either traditional 9 bead chaplet or 10 bead.
---
This traditional 'niner' or 'tener' is an open chaplet with the image of Jesus on one end and an old medal of St Jude on the other. St Jude is the saint of hopeless causes. He is thought to be one of the twelve apostles by many scholars. He is recognized in the Epistle of Jude as the brother of James and possibly a relative of Jesus. He traveled to Mesopotamia then caught up with Saint Simon in Persia. They were martyred together in Persia and their feast day is celebrated on October 28.
---
ALL OUR MEDALS: All our medals are handcast from antiques and vintage pieces in sterling silver and solid bronze then antiqued to restore original patina.
---
PRICING IS SUBJECT TO CHANGE WITHOUT NOTICE (pricing determined by gram wt of precious metals at time of casting
20% DISCOUNT UNTIL GONE:
BRONZE: ($142) your special price $113.60
STERLING: ($234) your special price $187.20
PRICING SUBJECT TO CHANGE WITHOUT NOTICE: (pricing determined by gram wt of metals at time of casting)