ST MARTIN de PORRES CENTER – vintage, age/origin unknown (1 in.) – SS.RC.017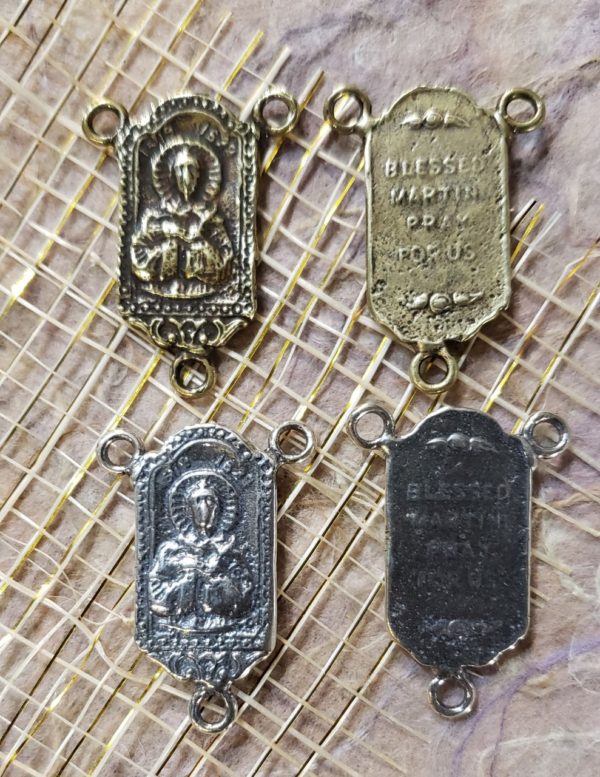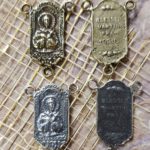 Description
ST MARTIN DE PORRES CENTER (1579 – 1639): Feast Day November 3rd. St Martin is known as the first black saint from the Americas. Attributes a dog, cat, bird, and a mouse eating together from a same dish also imaged with a broom, crucifix and rosary. He was a close friend of St Rose, also from Lima Peru. He had the gift of healing and was known to 'bilocate'. He is the patron of black people, hair stylists, innkeepers, mixed-race people, Peru, poor people, public education, public health, public schools, race relations, social justice, state schools, television, Mexico Peruvian Naval Aviators.
He is sometimes called the 'Saint of the Broom' and was never a priest. He was a Dominican cooperator brother who was beatified in the year 1837 by Pope Gregory XVI. This medal was cast before he became a saint in 1962 (Pope John XXIII).  Reverse: Blessed Martin Pray For Us.
Part of our Samsara Collection.
---
ABOUT OUR MEDALS: All medals on our site are hand cast in sterling silver and bronze from antique and vintage pieces then antiqued to restore original patina.
---
PLEASE NOTE: When trying to match up SAMSARA pieces with NON-SAMSARA pieces we will personally help match them for you. Some of the metals/antiquing Samsara used in his old pieces do not match our own pieces, especially the Bronze can be very off color. Please contact us if you need help!
---
PRICING SUBJECT TO CHANGE WITHOUT NOTICE:  (pricing determined by gram wt of metals at time of casting) *(ONLY A LIMITED AMOUNT OF ORIGINAL SAMSARA PIECES LEFT!  NOT SURE IF WE WILL RECAST)
BRONZE = $8  (shown top)  *ONLY (31) BRONZE LEFT IN STOCK
STERLING = $12  (shown bottom)  *ONLY (27) STERLING LEFT IN STOCK
(actual size: 1 in. H x .75 in. W, including bails)
PRICING SUBJECT TO CHANGE WITHOUT NOTICE: (pricing determined by gram wt of metals at time of casting)