ST MICHAEL CHAPLET – 3 Sets of 3 Beads – Blue 'Gemcuts'- (7.5 in.) – CDSM.51530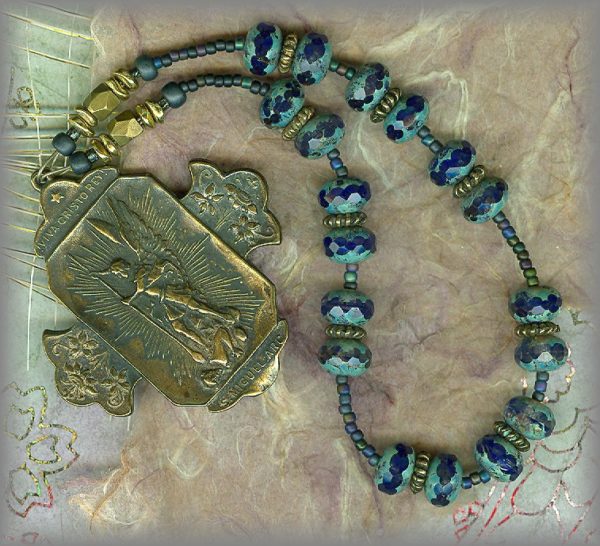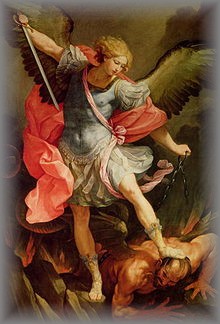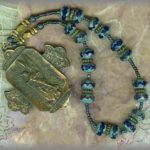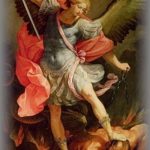 Description
ST MICHAEL THE ARCHANGEL: 3 SETS OF 3 BEADS
Feast day 29 September
BEADS: Variegated blue "gemcuts" from Czechoslovakia.
MEDAL: SAINT MICHAEL CROSS – antique, Italy/19c (2 in.)
---
St Michael means, "Who is Like God". He is the Archangel spoken of in Daniel 12:1: 21 At that time there shall arise Michael, the great prince, guardian of your people; It shall be a time unsurpassed in distress since nations began until that time. At that time your people shall escape, everyone who is found written in the book.? If you want a chaplet to do battle, call on ST Michael's intercession!
---
HOW TO PRAY 3 set of 3 BEAD CHAPLET: Traditional chaplet dedicated to the chosen saint medal attached, about 100 years old, still pray the St Jude today. Pray 1 Our Father, 1 Hail Mary, 1 Glory Be, repeat three times. For a Novena, pray once a day for 9 days.
---
ABOUT OUR MEDALS: All medals on our website are hand cast from antiques and vintage pieces in sterling silver and solid bronze then antiqued to restore original patina. Now available in White Bronze.
---
PRICING SUBJECT TO CHANGE WITHOUT NOTICE: (pricing determined by gram wt of metals at time of casting)
20% DISCOUNT APPLIED BELOW UNTIL GONE:
BRONZE: ($174) Your special price $139.20
STERLING: ($370) Your special price $296
WHITE BRONZE: ($156) Your special price) $124.80
PRICING SUBJECT TO CHANGE WITHOUT NOTICE: (pricing determined by gram wt of metals at time of casting)