STAR OF THE SEA CHAPLET- ( Our Lady of Caridad) -Teal Blue Beads – (6 in.) – COT.5520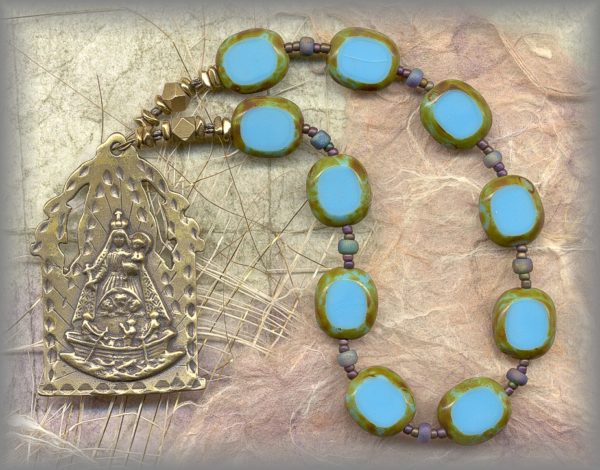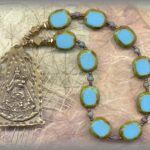 Description
STAR OF THE SEA:
AVE BEADS: Teal blue '2 window'beads from old Czechoslovakian glass bead molds. Framed in a topazy bronze "Picasso finish".
MEDAL: PATRONESS of CUBA – antique, Cuba/19c – (1.25 in.)
A beautiful 10 bead chaplet (one decade) of personal prayer for a loved one, Navy personnel serving in the war, or anyone who loves to ride the sea.
---
STAR OF THE SEA – CARIDAD 
'MARY, STAR OF THE SEA, GUIDE US ON OUR WAY'
The two chaplets below have a beautiful medal of Our Lady of Caridad (Patroness of Cuba) and we might ask why? Mary is Mary regardless of the title bestowed on her by various apparitions, groups, countries or families.  Mary as Star of the Sea (Stella Maris) and the Virgin of Caridad (Virgen de la Caridad del Cobre) each  have a long history.  Star of the Sea dates back to at least the 9th century as Patroness and protector of those at sea.  The legend of Caridad dates back to the 1600's. 
---
ABOUT OUR MEDALS: All medals on our website are hand cast from antiques and vintage pieces in sterling silver and solid bronze then antiqued to restore original patina.
---
PRICING SUBJECT TO CHANGE WITHOUT NOTICE: (pricing determined by gram wt of metals at time of casting)
20% DISCOUNT APPLIED BELOW UNTIL GONE:
BRONZE: ($138) your special price $110.40
STERLING: $186 your special price $148.80
PRICING SUBJECT TO CHANGE WITHOUT NOTICE: (pricing determined by gram wt of metals at time of casting)