SUNSHINE POLISHING CLOTH (for silver and bronze) – (5 x 7.5 in) – SPC.100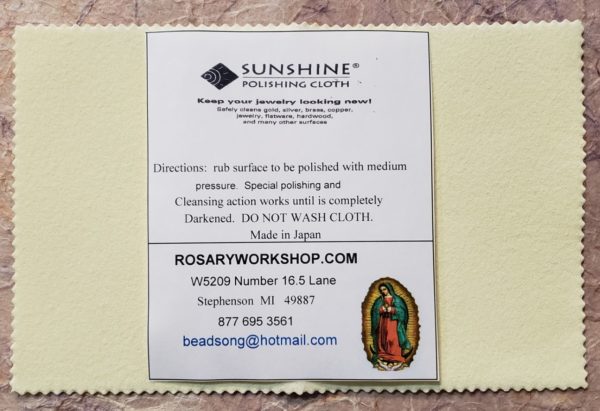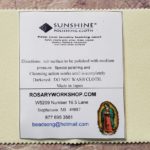 Description
SUNSHINE POLISHING CLOTH – We use them here at the Rosary Workshop and they seem to last for years! Safe to use on Gold, Silver, Brass, Copper, Bronze surfaces.
Keep your metal components refreshed by rubbing surface to be polished with medium pressure. Special polishing and cleansing action works until cloth is completely darkened and then some! We use these at the Rosary Workshop and love the finish it gives. (Do not wash cloth.)
---
POLISHING TIPS & CLEANING TIPS: Since our metals are cast by hand from antique pieces by several casters, the colors do not always match exactly. And various batches that come from the casters are not always the same. We have found this cloth helps bring most bronzes and silvers together.
We also use a very, very fine steel wool grade (#0000 ) which takes care of the heavier jobs and will not hurt the surface of the metals and helps give a satin finish to some of the shinier surfaces. Good to have on your work table along with the polishing cloth. Available at most hardware stores.
---
PRICING SUBJECT TO CHANGE WITHOUT NOTICE:
SUNSHINE POLISHING CLOTH (5 X 7.5 in) = $3.00 each
PRICING SUBJECT TO CHANGE WITHOUT NOTICE: (pricing determined by gram wt of metals at time of casting)