"TABERNACLE UNTOUCHED II" – (Wisconsin) – antique 'Gablonz' white / swarovski – rosary (8 mm. – 21 in.) – RDPF.21573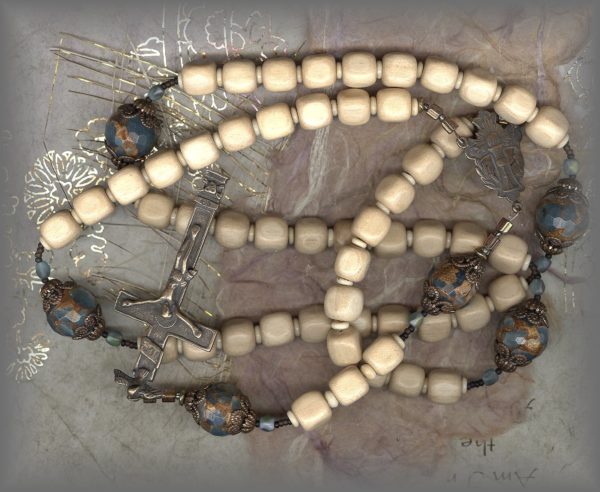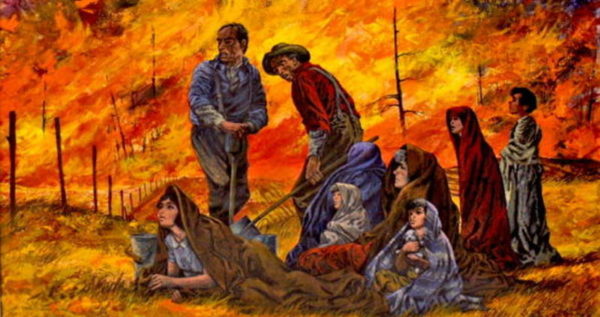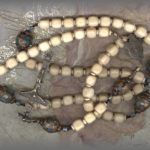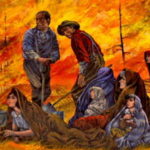 Description
"TABERNACLE UNTOUCHED II" (Natural Disaster series) GREAT PESHTIGO FIRE OF 1871:
Inspired by the Miracle of the Tabernacle
AVE BEADS: Little white wooden blocks symbolizing the white wooden tabernacle at St Mary's Church in Peshtigo (WI) during the fire of 1871 when everything around it was charred.)
PATER BEADS: We chose a faceted Jasper in multiple colors capped with metal filigree.
CRUCIFIX:  DOVE CRUCIFIX – antique, Russia/19c or earlier – (3 in.)
CENTER: 1900 / EUCHARIST CENTER – Europe/1900
---
MIRACLE OF THE TABERNACLE (St Mary's Church-Peshtigo) 
Nothing, though, can describe the horror of the firestorm that hit — including fire tornados and whirlwinds that witnesses described as sounding like freight trains. The fire was so intense that it had the power of a thermonuclear bomb and temperatures so high that people were cremated as they fled.
Fr. Pernin managed to save the tabernacle from his church and carry it, while dragging his wagon to the river. In the jostling and bedlam, the wagon was pushed into the water and the tabernacle floated away. The next day it was found, resting upright and dry, on a log in the river — with the sacred species safe inside.
---
INSPIRED BY: 'Our Lady of Good Help / Queen of Heaven' who appeared to Sister Adele Brise in Champion Wisconsin, then called Robinsonville. in 1859. Apparition is the first approved in the US by the Vatican (Dec.8 2010 – on the feast day of the Immaculate Conception of our Lady) and now rates with Lourdes, Fatima and Guadalupe. (see her words below)
This fire was the same fire that burned Chicago and Peshtigo on Sunday, October 8, 1871 – all at the same time, 12 years to the day after the Apparition of Our Lady October 8, 1859.
---
MARY'S MESSAGE TO SISTER ADELE – " I am the Queen of Heaven, who prays for the conversion of sinners, and I wish you to do the same. You received Holy Communion this morning, and that is well. But you must do more.
Make a general confession and offer Communion for the conversion of sinners. If they do not convert and do penance, my son will be obliged to punish them."
---
PRAY YOUR ROSARY FOR ALL FIRE VICTIMS
We dedicate these rosaries to fire victims, as a part of our series on environmental / weather related tragedies. We hope to encourage people to remember, not only to pray your rosary for protection today but for those who have suffered in the past, for those who suffered sudden death with no time to convert.  And for protection against future events.
---
ALL OUR MEDALS: All our medals are handcast from antiques and vintage pieces in sterling silver and solid bronze then antiqued to restore original patina.
---
PRICING SUBJECT TO CHANGE WITHOUT NOTICE (pricing determined by gram wt of precious metal at time of casting) Beads limited, unable to replace as shown.
20% DISCOUNT APPLIED UNTIL GONE
ROSARY
BRONZE: ($264) your special price $211.20
STERLING: ($434) your special price $347.20
PRICING SUBJECT TO CHANGE WITHOUT NOTICE: (pricing determined by gram wt of metals at time of casting)