TABLE CUT RECTANGLE BEADS – 4 colors variegated – (8×20 mm) – VCIPR.51601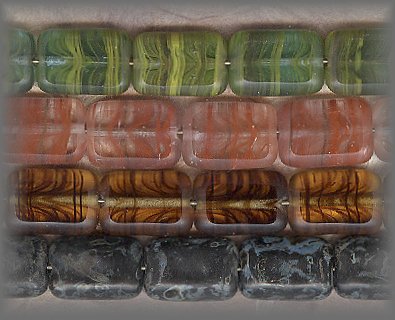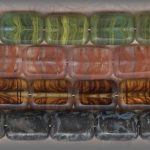 Description
TABLE CUT RECTANGLE or '2 WINDOW' BEADS: 60 vintage CZ rectangle beads, enough to make a rosary or 10 beads for chaplets, jewelry, earrings, necklaces, bracelets. These classic colors are rare and impossible to find anymore. From our private stock, purchased in 2003. Found in an old box. Pre 20th c.
Also SEE Clear (VCIPR.51602):   http://ait.devops.design/domains/wp/rosaryworkshop2/shop/table-cut-rectangle-beads-4-colors-clear-8×20-mm-vcipr-51602/
---
HISTORY: 'TABLE CUTS' OR 'WINDOW BEADS': They have been around for over 100 years. The name comes from the polishing technique used to produce their unique design. Once the bead is molded, it is placed on a rotating polishing table. This allows the polished surface to not only catch the light in a special way, but allows one to see into the bead and its variation of colors and designs.
---
PRICING SUBJECT TO CHANGE WITHOUT NOTICE:
AVAILABLE IN 4 RARE COLOR COMBINATIONS:
1. MOSS CRYSTAL w/inclusions
60 beads: $21 your special price $16  ONLY (6) PKGS LEFT IN STOCK
10 beads: $5 your special price $4  ONLY (5) PKGS LEFT IN STOCK
2. ROSE CRYSTAL w/inclusions
60 beads: $21 your special price $16  ONLY (11) PKGS LEFT IN STOCK
10 beads: $5 your special price $4  ONLY (12) PKGS LEFT IN STOCK
3. EARTH CRYSTAL w/inclusions
60 beads: $21 your special price $16  ONLY (9) PKGS LEFT IN STOCK
10 beads: $5 your special price $4  ONLY (12) PKGS LEFT IN STOCK
4. BLACK MATTE w/gray inclusions
60 beads: $21 your special price $16  ONLY (8) PKGS LEFT IN STOCK
10 beads: $5 your special price $4  ONLY (6) PKGS LEFT IN STOCK
PRICING SUBJECT TO CHANGE WITHOUT NOTICE: (pricing determined by gram wt of metals at time of casting)