THE BANTRY OR ST BRENDAN'S BOAT – (12.5 in. W x 5.25 in. H) – WG.24.1b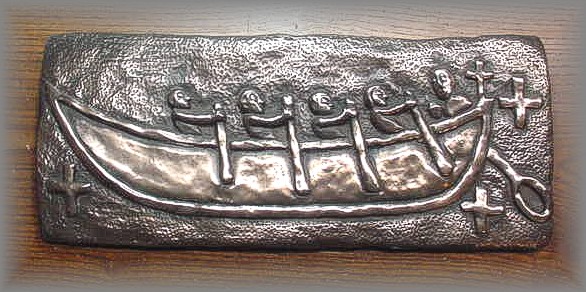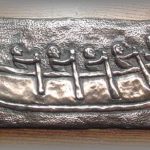 Description
THE BANTRY BOAT of ST BRENDEN: A curragh or skin covered boat, with the helmsman urging on four oarsmen as they strike heavenwards amid a sea of crosses. (Note the boat is vertical on the staff of the original Kilnaruane Pillar, standing in a field above Bantry Bay. West Cork.)
6th CENTURY VOYAGE? Did St Brendan discover America before Columbus? Many believe the Celtic Cross was a navigational device. (Similar to a sextant, it will measure the angle of the stars and identify both latitude and longitude. This amazingly accurate depiction of oarsmen dates from the early Christian period. It may celebrate St Brendan who in the 6th Century with his crew of four discovered America some 1,000 years before Columbus.
Mythically, it depicts the journey of every man, sailing across uncharted perilous seas to reach heaven or hell. Or, the Church ferrying its flock to heaven through seas of adversity.
(this original design, by the Irish artist Kathleen Smyth, was the first carved replica of the Bantry Boat, 1965.
---
HAND CAST IN KINSALE IRELAND BY WILD GOOSE STUDIOS: Each of these beautiful reminders of our faith is hand cast in bronze and in iron. A shell is formed in metal then filled with a resin. Each piece is then polished, leaving a deep rich patina. This remarkale technique creates a plaque that is not only beautiful but lighter in weight as if solid, would be very heavy an very expensive.
---
PRICING SUBJECT TO CHANGE WITHOUT NOTICE:
AVAILABLE IN ANTIQUED IRON OR BRONZE:
WG.24.1b = $72
ONLY (1) IRON LEFT IN STOCK
(BRONZE) CURRENTLY SOLD OUT – TO BE BACK ORDERED
*NOTE:  THIS PRODUCT MAY REQUIRE ADDITIONAL POSTAGE FOR SHIPPING, DUE TO THE SIZE & WEIGHT OF THE ITEM. (It may have to be shipped USPS Priority Mail instead of First Class Mail) If so, you will be quoted the price in your order confirmation.  
(actual size: 12.5 in. W x 5.25 in. H)
PRICING SUBJECT TO CHANGE WITHOUT NOTICE: (pricing determined by gram wt of metals at time of casting)