THE GOOD EARTH VI ROSARY – Jasper Tulips (27 in) – LEC.21233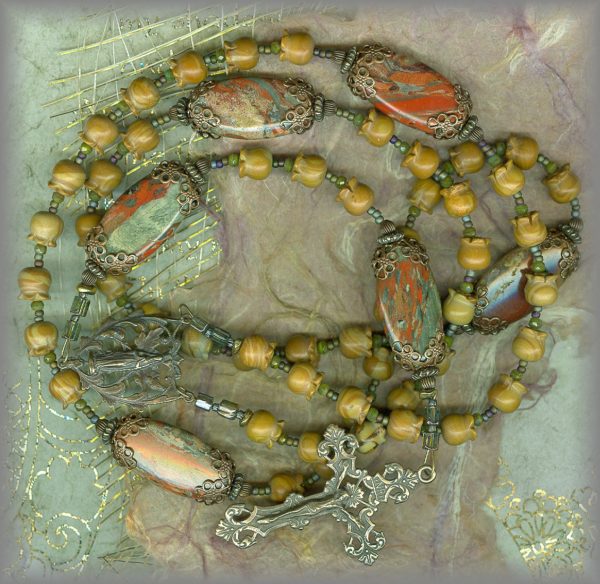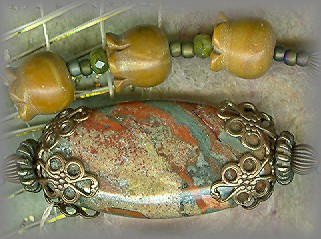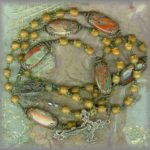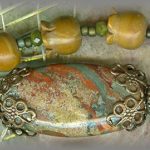 Description
THE GOOD EARTH VI:
AVE BEADS: Little 8mm tan tulips carved from Jasper. Note each as a little faceted crystal on the top to suggest a dew drop and how it catches the sunlight.
PATER BEADS: Flat oval beads of Poppy Jasper, no two alike, each a work of art! Think of it, for thousands of years in the earth until mined and formed into beads for prayer! We have capped each with antiqued filigrees to frame them.
…..God called the dry land "the earth" and the basin of the water he called "the sea". God saw how good it was"……Genesis 10:10
---
ABOUT OUR MEDALS: All our crucifixes, crosses, religious medals and rosary centers are hand cast from antiques in sterling silver and solid bronze then antiqued to restore original patina.
---
PRICES SUBJECT TO CHANGE WITHOUT PRIOR NOTICE. Pricing subject to gram wt of precious metal at the time of casting. Antique beads very limited, unable to replace.
20% DISCOUNT APPLIED BELOW UNTIL GONE:
BRONZE: ($276) your special price $220.80
STERLING: ($414) your special price $331.20
PRICING SUBJECT TO CHANGE WITHOUT NOTICE: (pricing determined by gram wt of metals at time of casting)