"THEY CAME TO BE" ROSARY- 'Klew" Beads & Poppy Jasper- (27 in.) – LEHB.21228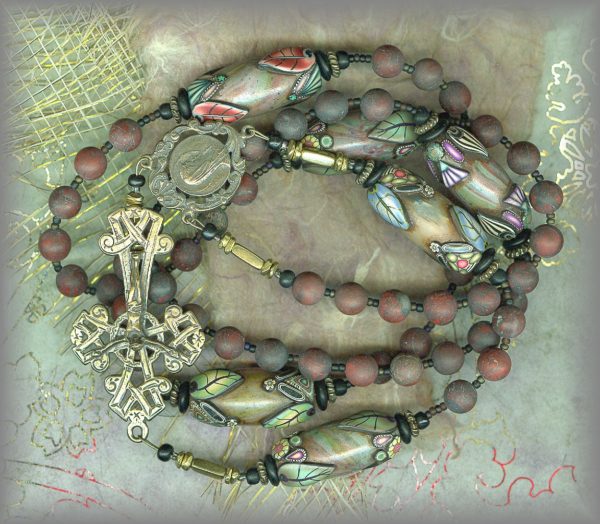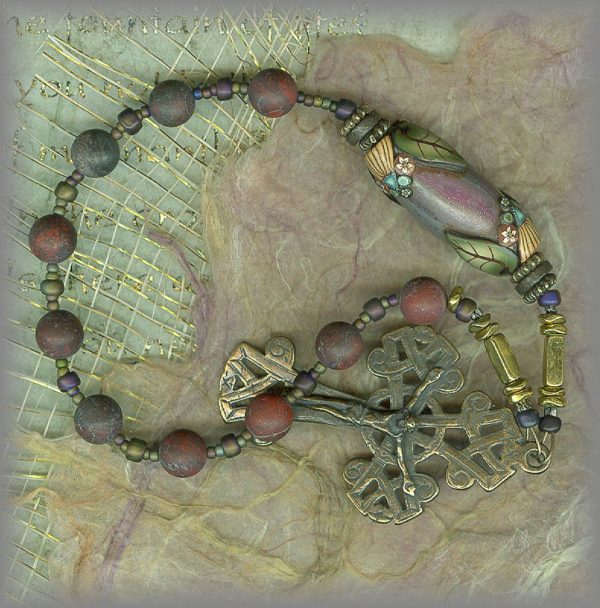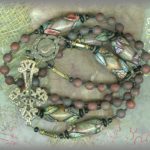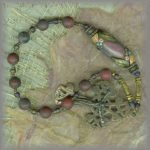 Description
THEY CAME TO BE XXIX
AVE BEADS: We are very pleased to have found these earthy 8mm poppy jasper for Ave beads as they have a visual matte texture that compliments the colors in the Pater bead.! They set off the handmade Klew beads beautifully.
PATER BEADS: California bead artist Karen Lewis of "Klew Expressions" has truly mastered the art of 'NEW CLAY' in her beadmaking Each bead is a work of art, never to be repeated. We are offering a series of rosaries with her beads as Paters. These are from our personal collection and are impossible to replace. (The older beads may have more definition or embellishment than the newer ones). Each one is a bit different, which adds to their value.
CRUCIFIX: CELTIC CRUCIFIX – Ireland, antique/19c – (2.25 in.)"
CENTER: LG MARY ROSARY CENTER – EUROPE / 19 th c – ( 1 in. )
---
ABOUT 'NEW CLAY'
When these are gone, there will be no more because each bead is in series depending on the colors chosen for the cane she designs which may produce several dozen beads before the featured cane is used up. Beads that are well over 5 years old remain beautiful. The only visible difference is that they gain an exquisite patina with use over time. Hard to believe when you realize that each color you see in every leaf, every berry, is a different piece of clay. Nothing has been drawn or painted into the design.
---
ALL OUR MEDALS: All our medals are handcast from antiques and vintage pieces in sterling silver and solid bronze then antiqued to restore original patina.
---
 PRICING SUBJECT TO CHANGE WITHOUT NOTICE. (Pricing determined by gram wt of precious metal at time of casting)
20% DISCOUNT APPLIED UNTIL GONE
ROSARY:
BRONZE: ($) your special price SOLD OUT
STERLING: ($) your special price SOLD OUT
CHAPLET:
BRONZE: ($206) your special price $164.80
STERLING: ($354) your special price $283.20
PRICING SUBJECT TO CHANGE WITHOUT NOTICE: (pricing determined by gram wt of metals at time of casting)