VICTORY OVER ADAM'S SIN CROSS – Latin American/late 1700s (2.5 in.) – CRO.09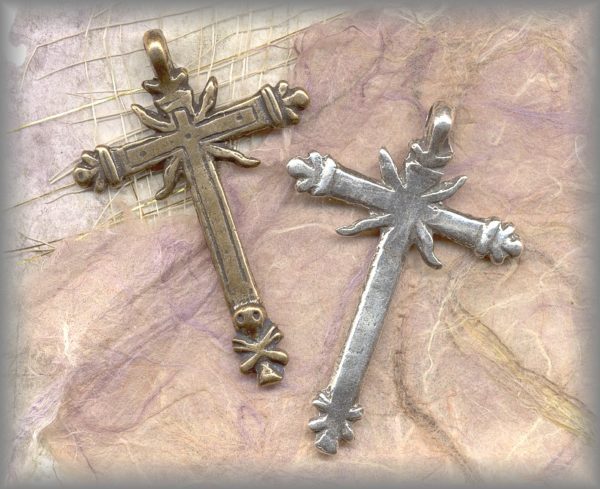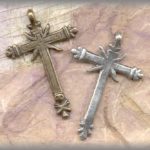 Description
VICTORY OVER THE SIN OF ADAM: – LATIN AMERICA – Dated late 1700s. May have had a corpus on the cross at one time but is long since gone. Note the very primitive skull and crossbones at the bottom of the cross. This is an ancient and traditional sign of 'Victory Over Death' or 'Victory Over the Sin of Adam.' This is a thick cross adding to gram wt.
---
THE SECOND ADAM: Who is the second Adam and why? Think about how the sin of Adam's disobedience was overcome by obedience and the promise of salvation through Christ. So Christ is known as the Second Adam.
GOLGATHA: An ancient tradition tells the story of the place of Adam's grave. It was a place known to the ancients as 'Golgatha' (the place of the skull). Christ was crucified at Golgatha, traditionally the very place where Adam was buried. Thus victory over the sin of Adam! See (Romans 5:12-21) and the teaching of St Paul who tells us that sin came into the world through Adam's disobedience, and grace through the obedience of Christ, the second Adam. This traditionally places Christ above the skull and crossbones at his feet on many of the old crucifixes.
---
ABOUT OUR METALS: All metals on our site have been hand cast from antiques and vintage pieces in sterling silver and solid bronze then antiqued to restore original patina.
---
PRICING SUBJECT TO CHANGE WITHOUT NOTICE: (pricing determined by gram wt of metal at time of casting)
BRONZE = $42 (shown left)
STERLING = $62  (shown right)
(actual size: 2.5 in. H x 1.75 in. W, including bail)
PRICING SUBJECT TO CHANGE WITHOUT NOTICE: (pricing determined by gram wt of metals at time of casting)