"VICTORY OVER DEATH" ROSARY – Howlite & Wood Skull beads – (20 in.) – RDLM.21040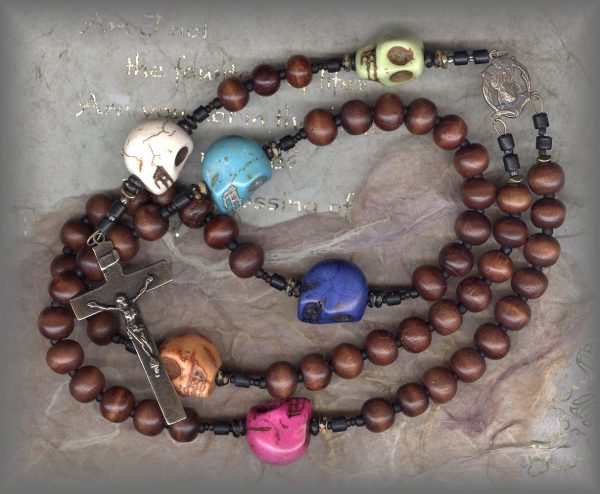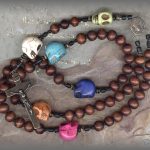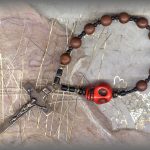 Description
VICTORY OVER DEATH
AVE BEAD: 8mm Smooth dark brown wood.
PATER BEAD: Whimsical series of multicolored skulls reminding us of God's promise of Victory over Death when the New Adam (Jesus) brought redemption over the Old Adam. A little reminder, too of the rainbow of Genesis and Gods promise.We love the fact that these were selling before they went on the internet. Wonderful to hold and a delight to look at. Each skull is actually made from a stabilized howlite – turquoise powder that has been infused with a clear epoxy resin. This soft or "chalk" turquoise is infused under pressure, which permanently hardens the rock and deepens the color that is added. Howlite is white and takes color well.
CRUCIFIX: PLAIN
CENTER:  SACRED HEART – CARMEL (scapular) – antique, Europe/age unknown – (.75 in.)
---
MUSEUM INSPIRED SERIES:The fourth in the series of Museum Inspired rosaries with the traditional Skull beads.
---
…… 44 for if he were not expecting the fallen to rise again, it would have been useless and foolish to pray for them in death. 45 But if he did this with a view to the splendid reward that awaits those who had gone to rest in godliness, it was a holy and pious thought. 46 Thus he made atonement for the dead that they might be freed from this sin. ….2 Macabees 12:44
---
ALL OUR MEDALS: All our medals are handcast from antiques and vintage pieces in sterling silver and solid bronze then antiqued to restore original patina.
---
VICTORY OVER DEATH: The symbolism of the skull on old crosses from the 18c represents Christ's victory over death. The skull is traditionally that of Adam who was believed buried on Golgatha. Christ is known as the ' New Adam'. Tradition has it that the blood of Christ flowed down the cross and on to the skull of Adam, redeeming mankind.
---
PRICING SUBJECT TO CHANGE WITHOUT NOTICE. (pricing
determined by gram wt of precious metal at time of casting.
20% DISCOUNT APPLIED UNTIL GONE
ROSARY:
BRONZE: ($152) your special price $121.60
STERLING: ($224) your special price $179.20
CHAPLET: (one decade- same beads)
BRONZE: ($100) your special price $80
STERLING: ($160) your special price $128
PRICING SUBJECT TO CHANGE WITHOUT NOTICE: (pricing determined by gram wt of metals at time of casting)