JOSE SANCHEZ del REY ROSARY – 'VIVA CHRISTO REY' – Wood & Red Gemcuts – (21in.) – RSTS.21467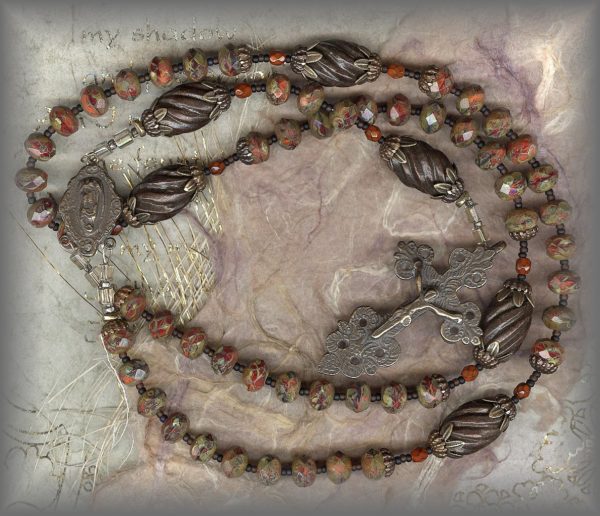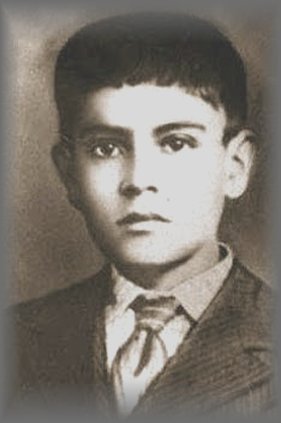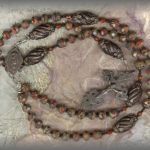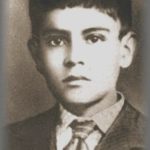 Description
JOSE SANCHEZ del Rio:
AVE BEADS: 8 mm Garnet gem-cuts with a mix of mossy green. (Red for Martyrdom, Green for youth)
PATER BEADS: Hand carved wood framed with antiqued metal caps and small blood red facets. (The earth and blood of his wounded feet.)
CRUCIFIX: SMALL CHILD'S CRUCIFIX – New Spain, 1700's (2.25 in. H x 1.25 in. W)
CENTER: GUADALUPE CENTER – antique, Oaxaca/19c – (1.1 in.)
---
WHO WAS JOSE SANCHEZ del RIO? JOSE SANCHEZ del RIO, (14 years old) Born on March 28, 1913, Cristero War broke out in 1926, his brothers joined the rebel forces, but he was too young to fight so became the flag bearer.
Captured by government troops, ordered to renounce his faith in Christ under threat of death. Made to watch the hanging of another Cristero. He refused. They cut the bottom of his feet and made him walk in pain but did not give in. Stopping him saying, If you shout, "Death to Christ the King" we will spare your life. Jose would only shout, "I will never give in. Viva Cristo Rey!'" They stabbed him numerous times with bayonets. The commander was so furious that he pulled out his pistol and shot him. For more information and to see a powerful and wonderfully made movie about Jose you MUST SEE, FOR GREATER GLORY: THE TRUE STORY OF CRISTADA: What price would you pay for freedom? In the exhilarating action epic For Greater Glory an impassioned group of men and women each make the decision to risk it all for family, faith and the very future of their country, as the film's adventure unfolds against the long-hidden, true story of the 1920s Cristero War-the daring people's revolt that rocked 20th Century North America. See links to movie clips:  https://youtu.be/3KiagxENUv4 , https://youtu.be/01WlvvXmrd0
---
ABOUT OUR MEDALS: All medals on our website are hand cast from antiques and vintage pieces in sterling silver and solid bronze then antiqued to restore original patina.
---
PRICING SUBJECT TO CHANGE WITHOUT NOTICE: (pricing determined by gram wt of metals at time of casting)
20% DISCOUNT APPLIED BELOW UNTIL GONE
Bronze: ($222) your special price $176.60
Sterling: ($312) your special price $249.60
PRICING SUBJECT TO CHANGE WITHOUT NOTICE: (pricing determined by gram wt of metals at time of casting)