'YA-LA-LAG' CROSS ANGELS / SH / SUN & MOON – antique, Latin America/1800s (2.25 in.) – ECRO.262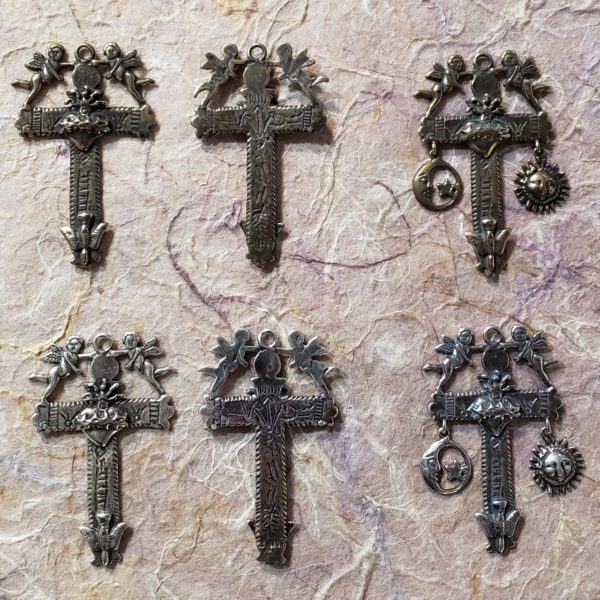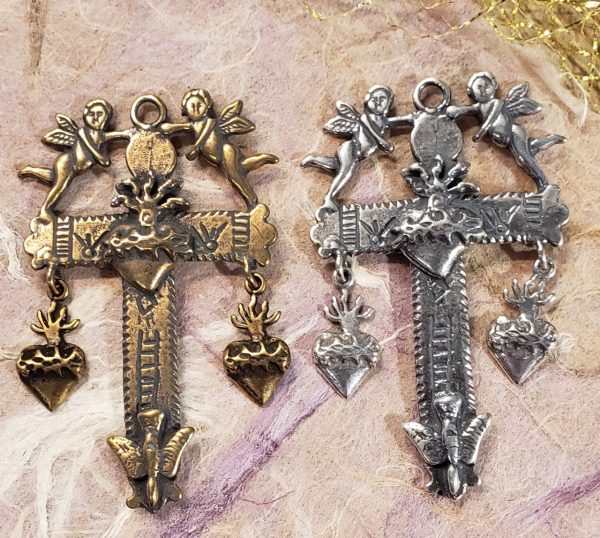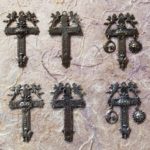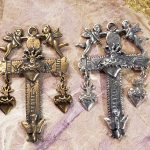 Description
'YALALAG' CROSS – ANGELS AND THE SACRED HEART OF JESUS WITH THE SUN AND MOON INCLUDED: A large magnificent Ya La Lag cross with traditional sun and moon (included in price) hanging from the horizontal arms. 2 angels guard the Holy Eucharist above the Most Sacred Heart of Jesus, pointing to both to bring them into one. A dove at the bottom represents the Holy Spirit. (SEE PRODUCT IMAGE)
LEFT SIDE:  CROSS ONLY (SHOWN FRONT & BACK  – 1st (2) PICTURES)
RIGHT SIDE: CROSS SHOWN W/MOON & SUN
*(ALSO SEE PRODUCT CROSS IMAGE WITH MILAGRO SACRED HEART CHARMS)
TO PURCHASE MOON MILAGRO SEPARATELY SEE (ECRO.263) http://ait.devops.design/domains/wp/rosaryworkshop2/product/moon-milagro-antique-latin-america-1800s-5-in-ecro-263/
TO PURCHASE SUN MILAGRO SEPARATELY SEE (ECRO.264)  https://store.rosaryworkshop.com/shop/sun-milagro-antique-latin-america-1800s-75-in-ecro-264/
TO PURCHASE SACRED HEART MILAGRO SEPARATELY SEE (EC.267)  https://store.rosaryworkshop.com/shop/small-milagro-sacred-heart-charm-latin-america-age-unknown-75-in-h-x-3750-in-w-ec-267/         
Part of our Equatoria Collection.
---
TRADITIONAL WEDDING GIFT:  We were told this is a traditional gift to new brides from their mothers on their wedding day. (Originals from San Juan Yalalag village near Oaxaca (Mexico). This cross is guarded by angels as well as the Holy Ghost, while the sun and the moon or sacred heart milagro charms flank the sacred heart of God.
Some date this design back to the 1540s when the Dominicans began to convert the people to Christianity. The originals are traditionally made from melted down silver coins.
---
ABOUT OUR MEDALS:  All medals on our website are hand cast from antiques and vintage pieces in sterling silver and solid bronze then antiqued to restore original patina.
---
PRICING SUBJECT TO CHANGE WITHOUT NOTICE:  (pricing determined by gram wt of metals at time of casting)
CROSS ALONE:
BRONZE  =  $38  (shown front/back on top/left side)
STERLING  =  $90  (shown front/back on bottom left side)
WITH CROSS / SUN / MOON:
BRONZE  =  $50  (shown top alone on right side)
STERLING  =  $110  (shown bottom alone on right side)
WITH CROSS & (2) SACRED HEART CHARMS:
BRONZE =  $48 (shown left separate gallary picture)
STERLING =  $110 (shown right separate gallary picture)
(actual size: 2.25 in. H x 1.50 in. W, including bail)
PRICING SUBJECT TO CHANGE WITHOUT NOTICE: (pricing determined by gram wt of metals at time of casting)