ADAM AND EVE – THE FALL (5.5 in. L x 4.25 in. W) – WG.176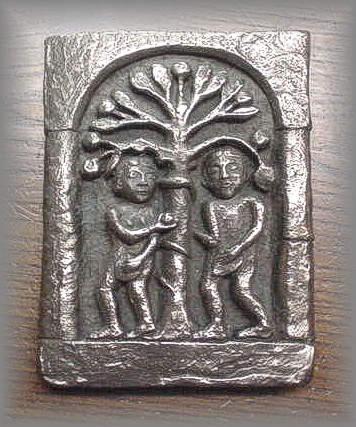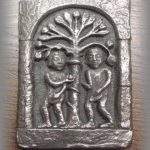 Description
ADAM AND EVE – THE FALL:  A 12c panel from Ardmore Cathedral, Co Waterford. Romanesque art depicts feelings rather than symmetry. This couple with nervous knees are awkward and uncertain, as the implication of the forgotten act weighs upon them. "She took the fruit thereof and did eat and gave to her husband with her, and he did eat". (Genesis)
The scene marks a fundamental change in the relationship of God and man, nature and man, woman and man; the balance has altered, the woman as equal has been dispossessed. The reign of the goddess has ended.
The serpent, and emblem of immortality (because of its ability to shed its skin and hibernate underground) is also an emblem of the wisdom of the goddess; it is now a harbinger of death. "Whilst Adam slept, Eve from his side arose: Strange his first sleep should be his last repose". Anon
---
HAND CAST IN KINSALE IRELAND BY WILD GOOSE STUDIOS: Each of these beautiful reminders of our faith is hand cast in bronze and in iron. A shell is formed in metal then filled with a resin. Each piece is then polished, leaving a deep rich patina. This remarkable technique creates a plaque that is not only beautiful but lighter in weight as if solid, would be very heavy and very expensive.
---
PRICING SUBJECT TO CHANGE WITHOUT NOTICE:
AVAILABLE IN ANTIQUED IRON OR BRONZE: (TO BE DISCONTINUED) UNABLE TO REORDER
WG.176 = $48
ONLY (2) IRON LEFT IN STOCK
ONLY (2) BRONZE LEFT IN STOCK
*NOTE:  THIS PRODUCT MAY REQUIRE ADDITIONAL POSTAGE FOR SHIPPING, DUE TO THE SIZE & WEIGHT OF THE ITEM. (It may have to be shipped USPS Priority Mail instead of First Class Mail) If so, you will be quoted the price in your order confirmation.  
(actual size: 5.5 in. L x 4.25 in. W)
[porto_block name="pricing"]