EXODUS – Called to Freedom (DVD, CD, STUDIES-Tim Gray and Scott Powell) – BTL EXODUS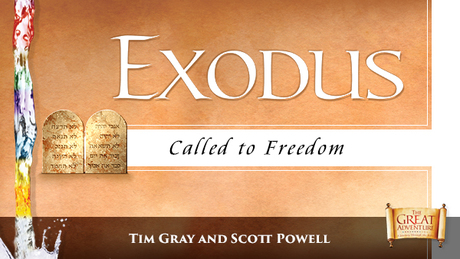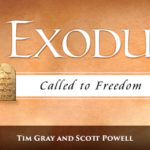 Description
EXODUS: Called to Freedom can be viewed as the defining moment in Israel's history, for it was then that God called Israel out of slavery in Egypt and to a life of freedom as His people. Exodus: Called to Freedom looks through the lens of Christ and the Church to show that, more than just seeking to free His people from the domination of Pharaoh, God desired to free His people from the far more sinister tyranny of sin, so they could live the authentic freedom that belongs to children of God. Because of this, the Exodus story is not just Israel's story, it is our story as well; it tells us who God is and what He calls us to be.
Your Group Will:
Learn the keys to authentic freedom.
Learn the personal significance of God's revelation of His name, "I AM."
Discover the divine purpose behind the plagues on Egypt as more than simply a demonstration of God's power.
Understand the importance of the Sabbath to God's people.
Discover that God's Law is in fact a reflection of God's love and concern for His people.
Learn how a proper understanding of the Exodus event can illuminate your understanding of the Christian Faith.
---
AVAILABLE IN TWO FORMATS: DVD or CD (Sessions 50-55 minutes)
DVD*( 3 DVDs – 10 sessions) = $99.95 ONLY (1) IN STOCK
CD* ( 5 CD's – 10 sessions) = $39.95 ONLY (1) IN STOCK
In these ten videos Tim Gray provides an overview and explanation of the book of Exodus.
These videos are just one part of the program. The Exodus Study Set contains the study questions, responses, and talk notes needed for the study.
Videos included:
Exodus 1-2: A People and Its Hero
Exodus 3-4: The Hesitant Servant
Exodus 5-7: "Let My People … Worship"
Exodus 8-10: Signs and Wonders
Exodus 11:1-15:21: Passover and Liberation
Exodus 15:22-18:27: Providence and Problems in the Wilderness
Exodus 19-23: The Ten Commandments
Exodus 24-31: 35-39: The Tabernacle
Exodus 32-34: Rebellion at Sinai and Covenant Renewal
Exodus 40: Led by God's Spirit
---
STARTER PACK = $99.00
This pack is what every leader needs to begin Exodus: Called to Freedom. It includes:
3-DVD Set (10, 30-minute videos presented by Tim Gray)
Study Set
Each participant and small-group facilitator should have a Study Set, which includes session overviews, questions and responses, and talk notes. The Study Set is used during each step of the program:
The session overviews and questions are needed for Home Preparation and Small-Group Discussion.
The talk notes are needed during the Video Presentations.
The responses are needed for the Review of Responses.
---
WORKBOOK* = $24.95  ONLY (3) IN STOCK (Old Version – will discount)
This workbook is essential for each participant and small-group facilitator of Exodus: Called to Freedom. It includes:
Session overviews
Engaging study questions
Responses to the questions
Talk notes for the video presentations
Helpful maps, charts, and outlines
---
PRICING SUBJECT TO CHANGE WITHOUT NOTICE:  (Pricing determined by supplier. All final prices will include a 15% discount across the board, which is what we get from supplier & we pass that on to our customers). *All prices do not include additional shipping charges.  Additional drop shipping charges will be added pending charge from supplier. Usually shipped to you within 5-7 business days.  (*Please allow 1-2 weeks from time of order to time of delivery to allow for shipping or holiday delays.)
ALL OUT OF STOCK ITEMS MAY BE ORDERED FROM SUPPLIER (as we have limited items IN STOCK(*) as noted).
Please feel free to contact us for quotes ahead of time at 1-877-695-3561 or email rosaryworkshoptl_02@hotmail.com .
PRICING SUBJECT TO CHANGE WITHOUT NOTICE: (pricing determined by gram wt of metals at time of casting)