JAMES – Pearls for Wise Living (DVD, CD, STUDIES-Jeff Cavins and Sarah Christmyer) – BTL JAMES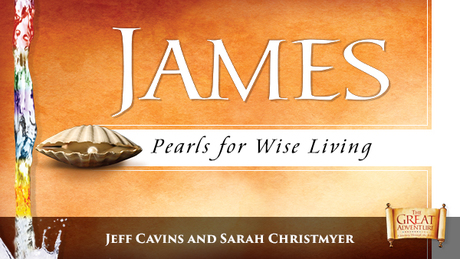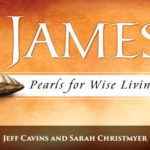 Description
JAMES: Pearls for Wise Living, James is one of the most practical books of the Bible. Like the book of Proverbs, it is a book of wisdom, a collection of teachings on issues faced by ordinary Christians in everyday life. These teachings speak loudly to all those who feel torn between the competing demands of this world and their faith. This study offers "pearls for wise living" by applying the wisdom of James to the present day. For anyone who has struggled to live a truly Christian life, James offers a wealth of practical solutions for handling and even sanctifying everyday circumstances.
Your Group Will:
Find an anchor to hold you steady through the storms of life.
Learn how just a few small words can change your entire life for better or for worse.
See how God's wisdom helps us face suffering and temptation.
Learn the secret to finding joy in the midst of trials.
Find value in suffering.
Find reason to trust in God's providence over wealth or position or personal talent.
Learn to recognize the source of discord and the way to peace.
---
AVAILABLE IN TWO FORMATS: DVD or CD (Sessions 50-55 minutes)
DVD* (6 DVD's – 11 sessions) = $124.95 ONLY (1) IN STOCK
CD* (11 CD's – 11 sessions) = $89.95 ONLY (1) IN STOCK
In these eleven sessions Jeff Cavins provides a captivating overview and explanation of the Letter of James.
These sessions are just one part of the program. The James Study Set contains the study questions, responses, and talk notes needed for the study.
Sessions Included:
Introduction
James 1:1-18: Wisdom for Tough Times
James 1:19-27: Wisdom and Pure Religion
James 2:1-13: Wisdom and the Law of Love
James 2:14-26: Faith Works with Wisdom
James 3:1-12: Wisdom Is Known Through Speech
James 3:13-18: Wisdom False and True
James 4:1-10: Wisdom in Relationship
James 4:11-5:6: A Wise Perspective for Living
James 5:7-12: The Wisdom of Patience
James 5:13-20: The Wisdom of Confession and Prayer
---
STARTER PACK = $129.00
This pack is what every leader needs to begin James: Pearls for Wise Living. It includes:
6 DVD Set (11, 50-minute videos)
Study Set
Each participant and small-group facilitator should have a Study Set, which includes session overviews, questions and responses, and talk notes. The Study Set is used during each step of the program:
The session overviews and questions are needed for Home Preparation and Small-Group Discussion.
The talk notes are needed during the Video Presentations.
The responses are need for the Review of Responses.
---
WORKBOOK* = $24.95  ONLY (4) IN STOCK (Old Version – will discount)
This workbook is essential for each participant and small-group facilitator of James: Pearls for Wise Living. It includes:
Session overviews
Engaging study questions
Responses to the questions
Talk notes for the video presentations
---
PRICING SUBJECT TO CHANGE WITHOUT NOTICE:  (Pricing determined by supplier. All final prices will include a 15% discount across the board, which is what we get from supplier & we pass that on to our customers). *All prices do not include additional shipping charges.  Additional drop shipping charges will be added pending charge from supplier. Usually shipped to you within 5-7 business days.  (*Please allow 1-2 weeks from time of order to time of delivery to allow for shipping or holiday delays.)
ALL OUT OF STOCK ITEMS MAY BE ORDERED FROM SUPPLIER (as we have limited items IN STOCK(*) as noted).
Please feel free to contact us for quotes ahead of time at 1-877-695-3561 or email rosaryworkshoptl_02@hotmail.com .
PRICING SUBJECT TO CHANGE WITHOUT NOTICE: (pricing determined by gram wt of metals at time of casting)