ANCIENT ONE IV – Purple Agate / Lava – Rosary / Chaplet (10 mm – 36 in) – RET.2827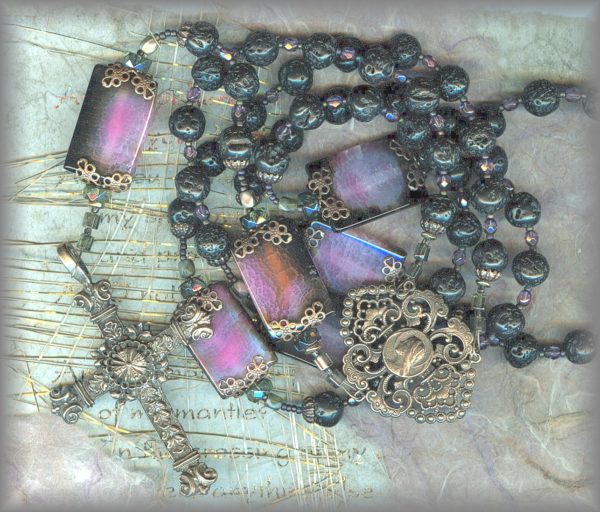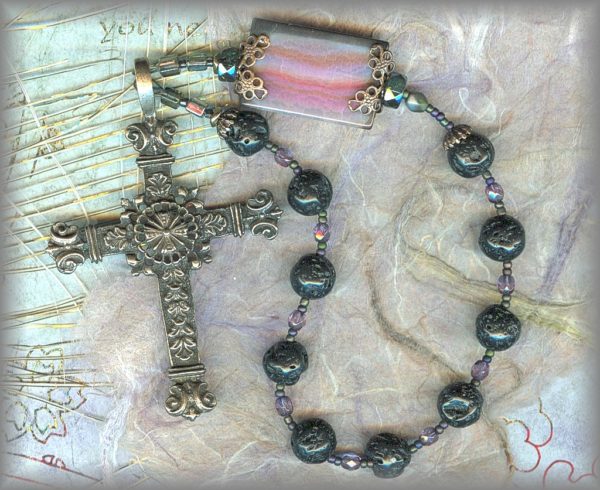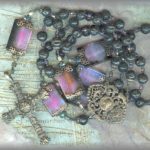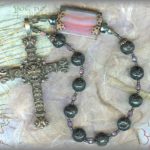 Description
ANCIENT ONE IV:
AVE BEADS:  Each bead hand picked of 8mm textured Lava stone, not too shiny, not to matte. Just right to set up the Pater Beads.
PATER BEADS:  Flat, like pages in a book, called Crackle Laced Agate each framed with antiqued metal filigreed.
CRUCIFIX: BAROQUE – antique, Europe/unknown – (3 in.)
CENTER: Large FILIGREE MADONNA CENTER – unknown era / vintage – ( 1.75 in. x 1.25 in )
This is a large Rosary at 33.5 in
……Behold, one like the Son of man came with the clouds of heaven, and came to the Ancient of Days, and they brought him near before him. Daniel 7:9
---
ABOUT OUR METALS: All medals, crucifixes and centers on our site are hand cast from antiques and vintage pieces in sterling silver and solid bronze then antiqued to restore original patina.
---
PRICES SUBJECT TO CHANGE WITHOUT PRIOR NOTICE. Pricing subject to gram wt of precious metal at the time of casting. Antique beads very limited, unable to replace.
20% DISCOUNT APPLIED BELOW UNTIL SOLD.
ROSARY
BRONZE: ($306) your special price $244.80
STERLING: ($624) your special price $499.20
CHAPLET
BRONZE: ($156) your special price $124.80
STERLING: ($350) your special price $280
PRICING SUBJECT TO CHANGE WITHOUT NOTICE: (pricing determined by gram wt of metals at time of casting)