"GODS GLORY REVEALED" ROSARY (III) – Obsidian & Basha Beads – (25 in) – RET.2914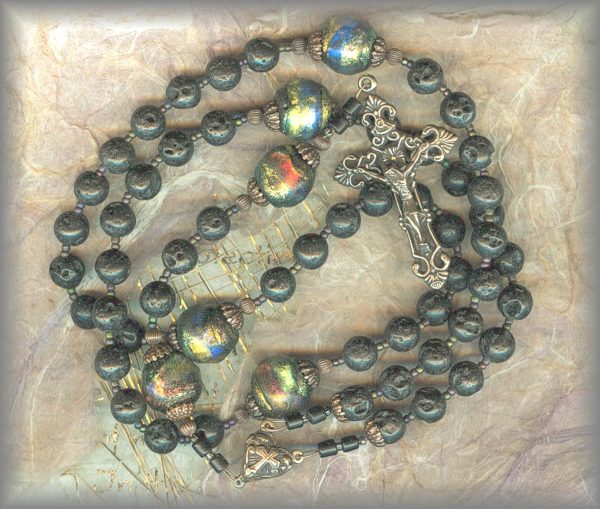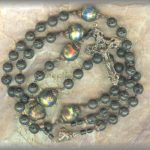 Description
GODS GLORY REVEALED III:
AVE BEADS: 8mm Round lava.
PATER BEADS: These incredible 14m Pater beads are individually lampworked by Basha with embedded fragments of dichroic glass. (Basha calls the color, 'PASHA')
CRUCIFIX: MEDIUM FANCY – antique, France/1880's – (2 in.)
CENTER: Sm PUFFY HEART CENTER – European/era unknown – (.5 in.)"
---
There is no way our scanner can capture their beauty as the deep, rich colors dance. It is like trying to hold a rainbow as each turn of the bead captures a new color. depending on the light source. To hold one is to be locked in its beauty
……..Then the glory of the LORD shall be revealed, and all mankind shall see it together; for the mouth of the LORD has spoken. Isaiah 40:3-5
---
ABOUT OUR METALS: All medals, crucifixes, and centers on our site are hand cast from antiques and vintage pieces in sterling silver and solid bronze then antiqued to restore original patina.
---
PRICES SUBJECT TO CHANGE WITHOUT PRIOR NOTICE. Pricing subject to gram wt of precious metal at the time of casting. Antique beads very limited, unable to replace.
20% DISCOUNT APPLIED BELOW UNTIL SOLD.
BRONZE: ($358) your special price $286.40
SILVER: ($474) your special price $379.20
PRICING SUBJECT TO CHANGE WITHOUT NOTICE: (pricing determined by gram wt of metals at time of casting)