ANGELIC TRISAGION – 3 Set of 9 beads – BLACK AGATE – (10 in.) – CDTR.51140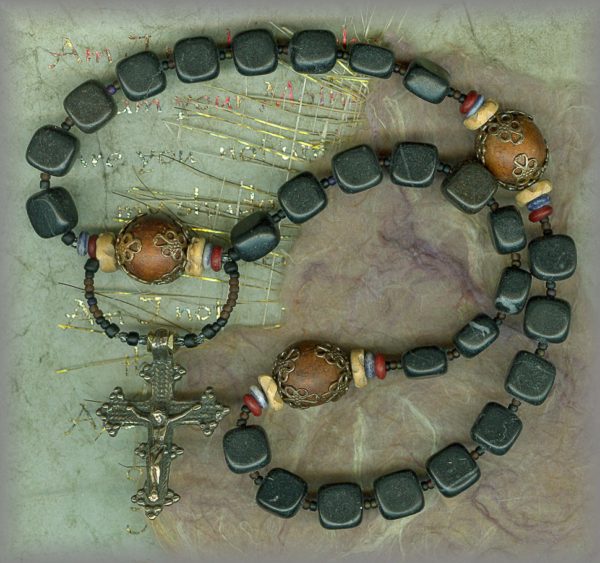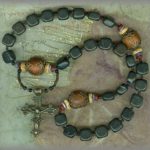 Description
ANGELIC TRISAGION II -'HOLY STRONG ONE' (HOLY TRINITY)
AVE BEADS: 10mm Black agate cubes. 3 sets of 9 beads
PATER BEADS: Smooth 12mm wood of the Mala tree capped with antiqued filigree metal.
CRUCIFIX: SMALL COPTIC – antique, Ethiopia/1800's – (1.75 in.)
---
AN ALMOST FORGOTTEN HYMNAL PRAYER The 3 x 9 bead 'Angelic Trisagion' chaplet is believed to be an ancient hymn, prayed to unite one with the 9 choirs of angels in praise to the Holy Trinity. Over the centuries, the prayers have changed some as has the music from the traditional form prayed by the Trinitarians. But you will recognize parts that are found in other devotions such as the Divine Mercy. The prayers may be prayed on the chaplet above or adapted to a standard 5 decade rosary.
TRISAGION: 'THRICE HOLY'
The Greek phrase 'Trisagion' translates as 'Thrice Holy' as in this hymn God is described Holy in three different qualities; 'Holy God' (Agios o Theos). 'Holy strong One' ('gios 'schyros), 'Holy Immortal One' have mercy on us ('gios ath'natos, el'ison imas). In Latin: 'Sanctus Deus, Sanctus Fortis, Sanctus immort'lis, miser're nobis.'
---
ABOUT OUR MEDALS: All medals on our website are hand cast from antiques and vintage pieces in sterling silver and solid bronze then antiqued to restore original patina.
---
PRICING SUBJECT TO CHANGE WITHOUT NOTICE: (pricing determined by gram wt of metals at time of casting)
20% DISCOUNT APPLIED BELOW UNTIL GONE:
BRONZE: ($130) your special price $104
STERLING: ($166) your special price $132.80
PRICING SUBJECT TO CHANGE WITHOUT NOTICE: (pricing determined by gram wt of metals at time of casting)