OUR GUARDIAN ANGEL CHAPLET (II) – Antique Cream Teardrops (8 in.) – C9G.51341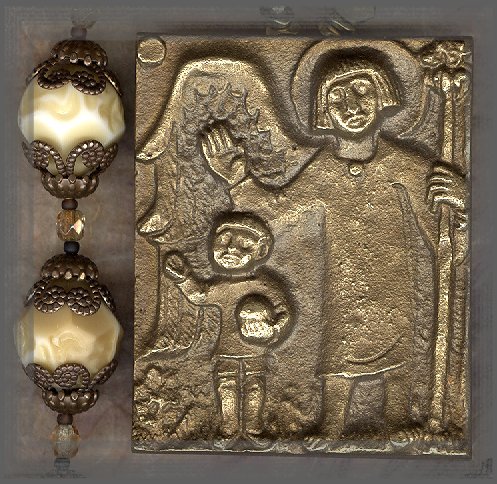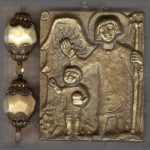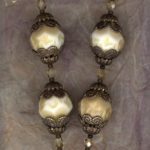 Description
OUR GUARDIAN ANGEL II – Feast Day Oct 2
BEADS: Antique (Gablonz-Germany 1940's). Variegated matted cream and white teardrops.
MEDAL: Guardian Angel but medalist Egino Weinert.  (Medal 1.5 x 2 inches)
Available in traditional 9 bead chaplet (3 sets of 3) or 10 bead chaplet.
---
Prayers for the 9 bead chaplet. 1 Our Father, 1 Hail Mary and 1 Glory be on each set of 3.
---
MEDALIST: World renowned German artist, Egino Weinert, is a master in the field of sacred gold smithery, as well as a painter and sculptor. He has consigned pieces of art for Cathedrals and Churches throughout the world and is a favorite of John Paul II. Several of Mr. Weinert's original enamel works may be seen in the Galleria Moderna of the Vatican Museum.
---
GUARDIAN ANGEL: NEW JERUSALEM – The Encyclopedia of the Catholic Church states it clearly, "That every individual soul has a guardian angel has never been defined by the Church, and is, consequently, not an article of faith; but it is the "mind of the Church", as St. Jerome expressed it: "how great the dignity of the soul, since each one has from his birth an angel commissioned to guard it." Exodus 32:34, God says to Moses: "my angel shall go before thee." & Psalm 90:11: "For he hath given his angels charge over thee; to keep thee in all thy ways."
---
ABOUT OUR MEDALS: All medals on our website are hand cast from antiques and vintage pieces in sterling silver and solid bronze then antiqued to restore original patina.
---
PRICING SUBJECT TO CHANGE WITHOUT NOTICE: (pricing determined by gram wt of metals at time of casting)
20% DISCOUNT APPLIED BELOW UNTIL GONE:
BRONZE ONLY: ($228) your special price $182.40
PRICING SUBJECT TO CHANGE WITHOUT NOTICE: (pricing determined by gram wt of metals at time of casting)