ANNUNCIATION PENDANT – Egino Weinert (bronze) – (1.75 x 1.5 in.) – JPS.6053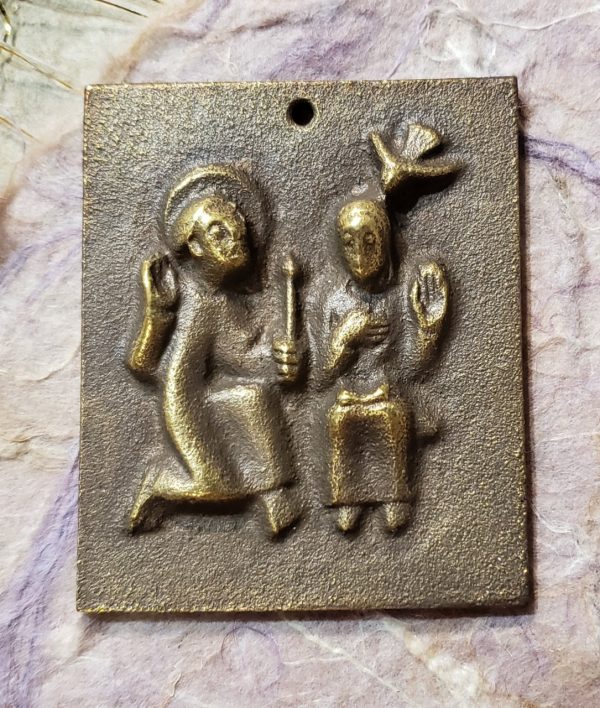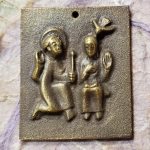 Description
ANNUNCIATION PENDANT: An angel announces to Mary that she will be the mother of a child Jesus. The Holy Spirit hovers over her head. This small bronze plaque depicts the Annunciation (Luke 1:26-38):  the Archangel Gabriel, holding a herald's staff, announces to Mary that she will bear a son, the Son of the Most High. Although small, this solid bronze plaque expresses the anticipation and joy of the Advent and Christmas seasons, this is an ideal gift which joyfully announces the reason for the season. A magnificent pendant medal in bronze by world renown medalist Egino Weinert (Germany).
GREAT GIFT SUGGESTIONS:
The Annunciation Plaque makes the perfect gift–indeed the perfect Christmas stocking stuffer—for everyone, young and old. This plaque is extremely popular as a Christmas gift to be hung on the wall, on a doorknob, or even on the Christmas tree. This plaque is a also a wonderful gift for the Feast of the Annunciation on March 25th.
Part of our Creator Mundi Collection.
---
ABOUT THE MONASTERY OF MARIA LAACH: For over 50 years Maria Laach has offered religous cards, icons, and bronzes of high quality. There are about 80 Monks, assisted by Lay people in the production of these works sold all over the world. The grounds of the Monastery are also a sign of their large agricultural business. Their more recent works include gates and garden art. Our visit in 2007 gave us an incredible sense of this very blessed community.
ABOUT EGINO WEINERT: World renowned German artist, Egino Weinert, is a master in the field of sacred gold smithery, as well as a painter and sculptor. He has consigned pieces of art for Cathedrals and Churches throughout the world and is a favorite of John Paul II. Several of Mr. Weinert?s original enamel works may be seen in the Galleria Moderna of the Vatican Museum.
---
PRICING SUBJECT TO CHANGE WITHOUT NOTICE:  (pricing determined by gram wt of metals at time of casting)
(ITEM AVAILABLE TO BACK ORDER – ALLOW 1-2 WEEKS)
JPS:6053 – ANNUNCIATION PENDANT = Reg. ($24) your special price $22
(actual size: 1.8750 in. H x 1.5625 in. W)
PRICING SUBJECT TO CHANGE WITHOUT NOTICE: (pricing determined by gram wt of metals at time of casting)