"BE OPENED" ROSARY (VII) – Antique Jet & Basha Bead – 22 in. – LEA.21856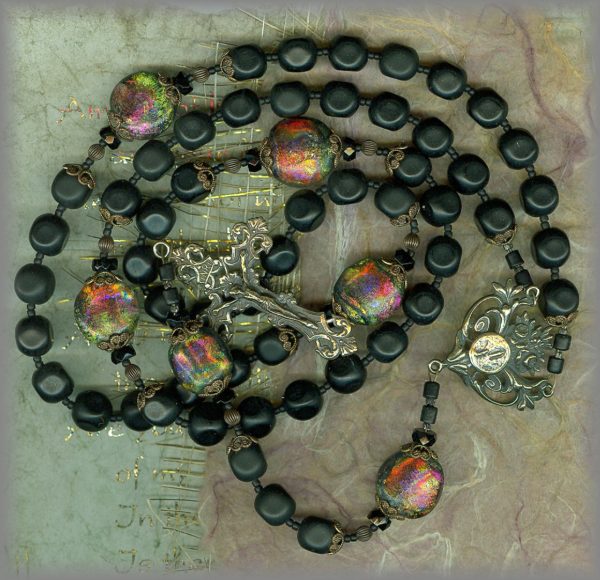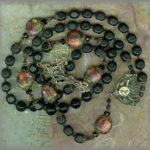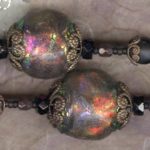 Description
BE OPENED 
AVE BEADS: (1920 – 40's). Fine old matte antique jet beads – textured pressed glass beads from Gablonz (Germany). – very popular in the early part of the 20th century.
PATER BEADS: Individually hand made dicroic lamp work by "Basha", capped in antiqued filigrees. Our image does not give this rosary justice as colors are deep inside the bead not on the surface of the Pater bead. Basha beads are hand made, very limited.
CRUCIFIX: LARGE FANCY – antique, France/1880's – (2.25 in.)
CENTER: 1860 / LOURDES CENTER – France/1860 – (1.25 x 1 in.)
---
….And people brought to him a deaf man who had a speech impediment and begged him to lay his hand on him. He took him off by himself away from the crowd. He put his finger into the man's ears and, spitting, touched his tongue; then he looked up to heaven and groaned, and said to him, "Ephphatha!" (that is, "Be opened!") And (immediately) the man's ears were opened, his speech impediment was removed, and he spoke plainly.  He ordered them not to tell anyone. But the more he ordered them not to, the more they proclaimed it. They were exceedingly astonished and they said, "He has done all things well. He makes the deaf hear and (the) mute speak.".. MARK 7:32-37
---
ALL OUR MEDALS: All our medals are handcast from antiques and vintage pieces in sterling silver and solid bronze then antiqued to restore original patina.
---
PRICING SUBJECT TO CHANGE WITHOUT NOTICE. (Pricing determined by gram wt of precious metal at time of casting)
20 % DISCOUNT APPLIED UNTIL GONE
BRONZE: ($626) your special price $500.80
STERLING: ($748) your special price $598.40
PRICING SUBJECT TO CHANGE WITHOUT NOTICE: (pricing determined by gram wt of metals at time of casting)