COMMIT YOUR WAY V – STe Joan devotional rosary (8 mm. – 22 in.) – RDSP.21510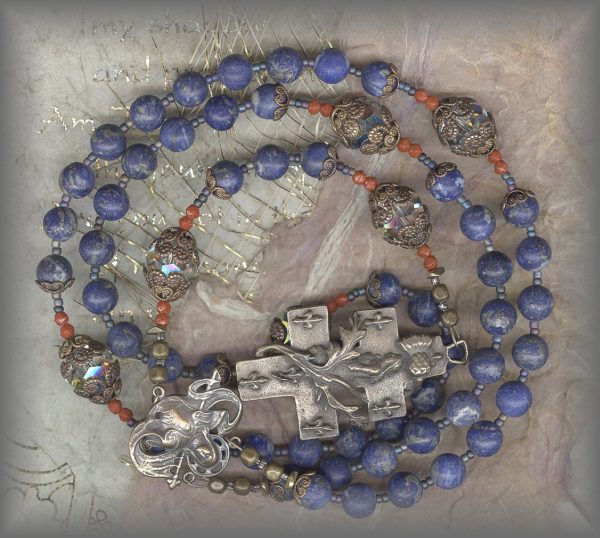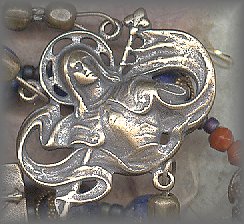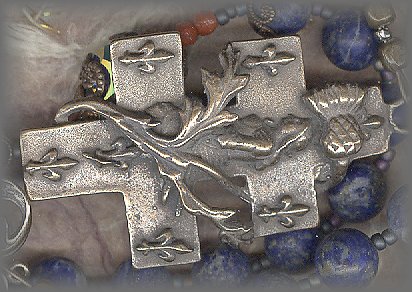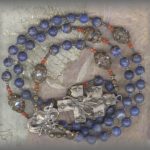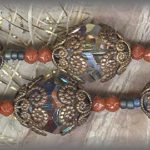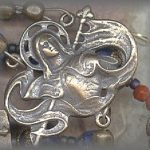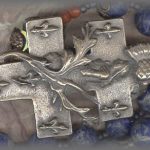 Description
COMMIT YOUR WAY V: STe JOAN DEVOTIONAL ROSARY:
STe JEANNE d'ARC (1412 – 1431)
AVE BEADS: 8mm Natural Lapis showing blue and white for the symbolism of the French Flag, the land of STe Joan.
PATER BEADS: 12mm Faceted crystal, (Swarovski) with a wash of AB.
CRUCIFIX: STe JOAN CROSS – antique, France/unknown – (2.25 in.)
CENTER:  STe JOAN OF ARC – antique, France/era unknown – (1 x 1 in.)
---
…… 3 Trust in the LORD and do good that you may dwell in the land and live secure. 4 Find your delight in the LORD who will give you your heart's desire. … 5 Commit your way to the LORD; trust that God will act And make your integrity shine like the dawn, your vindication like noonday. 7 Be still before the LORD; wait for God…....Psalm 37: 3-7
---
DEDICATION: This beautiful rosary is dedicated to Ste Joan of Arc, patroness of men and women service personnel.It has been in the making for several years and now we have these beautiful Ste Joan medals. She is the patroness of France and has been deeply involved in a remarkable French Military History. Given messages from on high starting at the age of 12, she was called to lead the French into battle and at the battle of Orleans (May 1429) when Joan was 17 she led the troops to a miraculous victory over the English. When she was 19, (1430) she was captured by the Burgundians and sold to the English. She was handed over to the ecclesiastical court (Rouen) led by Pierre Cauchon, a pro-English Bishop of Beauvais. After being tried for witchcraft and heresy, she was burned at the stake. Beatified (1909), and canonized (1920) by Pope Benedict XV.
"About Jesus Christ and the Church, I simply know they're just one thing, and we shouldn't complicate the matter." …..Saint Joan of Arc, (statement recorded at her trial)
1412[3] 30 May 1431), is a folk heroine of France and a Roman Catholic saint. A peasant girl born in what is now eastern France who claimed divine guidance, she led the French army to several important victories during the Hundred Years' War, which paved the way for the coronation of Charles VII of France.
---
ABOUT OUR MEDALS: All our medals are handcast from antique and vintage pieces in sterling silver and solid bronze then antiqued to restore original patina.
---
PRICING SUBJECT TO CHANGE WITHOUT NOTICE. (pricing determined by gram wt of precious metal at time of casting) Very popular for military
20% DISCOUNT APPLIED BELOW UNTIL GONE:
BRONZE: ($318) your special price $254.40
STERLING: ($588) your special price $470.40
WHITE BRONZE: ($280) your special price $224
PRICING SUBJECT TO CHANGE WITHOUT NOTICE: (pricing determined by gram wt of metals at time of casting)