MOTHER of PEARL FILIGREE- 8 mm – MOP with silver filigree beads (17 in) – RAFR.2630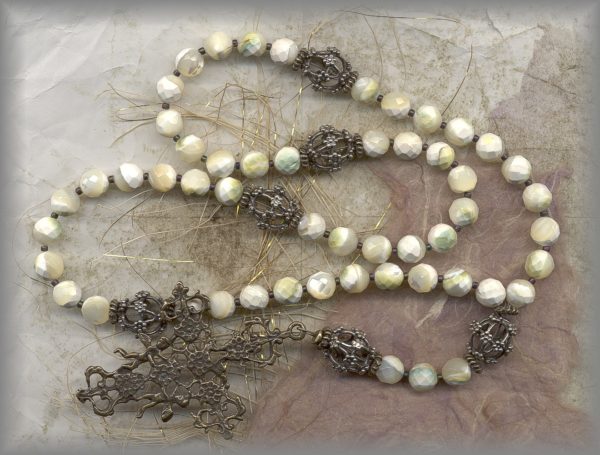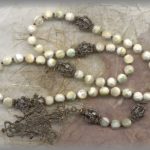 Description
MOTHER OF PEARL FILIGREE:
AVE BEADS: 8mm Faceted mother of pearl is used with handmade silver Filigree beads. We saw many Filigree Rosaries made of Faux Pearl (glass) and when we saw these beautiful MOP beads we knew that they would be the choice for the Filigree Rosary. We had never seen them with facets which adds to their beauty.
PATER BEADS: Handmade silver filigree beads following the traditional form used for centuries as old books and museums confirm.
CRUCIFIX: LACY ROSE CROSS / ANGELS – age / era unkown – (2 in.)" 
Rosary is made in the traditional "all one loop" design without a center piece.
---
…….2 At present we see indistinctly, as in a mirror, but then face to face. At present I know partially; then I shall know fully, as I am fully known.13 So faith, hope, love remain, these three; but the greatest of these is love..1 CORINTHIANS 12:12-13
---
FILIGREE ROSARIES were the most popular of rosaries from the 16 – 18 century. Mostly made in Schwabish Gmund (upper Bavaria) by families in the area. Schwabish Gmund was known for its silver work and a center for jewelry and rosary making. They became so popular and elegant that they were worn for jewelry and there was concern that the spiritual purpose of prayer was lost in vanity. They were banned by some religious orders because of this.
---
MEDALS: All our medals are hand cast from antique and vintage pieces in sterling silver and solid bronze. (The beads used here are handmade and are new. The Filigree cross is cast from an old piece.)
---
PRICING SUBJECT TO CHANGE WITHOUT NOTICE. (pricing determined by gram wt of precious metal at time of casting)
20% DISCOUNT APPLIED BELOW UNTIL GONE
BRONZE: ($272) your special price $217.60
STERLING: ($308) your special price $246.40  (SS.CRO.031 – STERLING CROSS IS SOLD OUT) See link below. *MAY SUBSTITUTE DIFFERENT CROSS/CRUCIFIX OF SAME PRICE.   http://ait.devops.design/domains/wp/rosaryworkshop2/shop/lacy-rose-cross-w-angels-age-era-unknown-2-5-in-ss-cro-031/
PRICING SUBJECT TO CHANGE WITHOUT NOTICE: (pricing determined by gram wt of metals at time of casting)