COMMUNION CROSS (Butzon Bercker – Germany) (4 in. H x 3.0625 in. W) – GWC.6014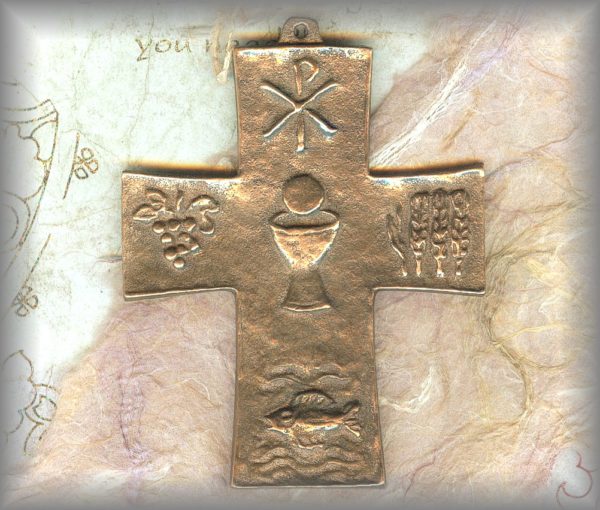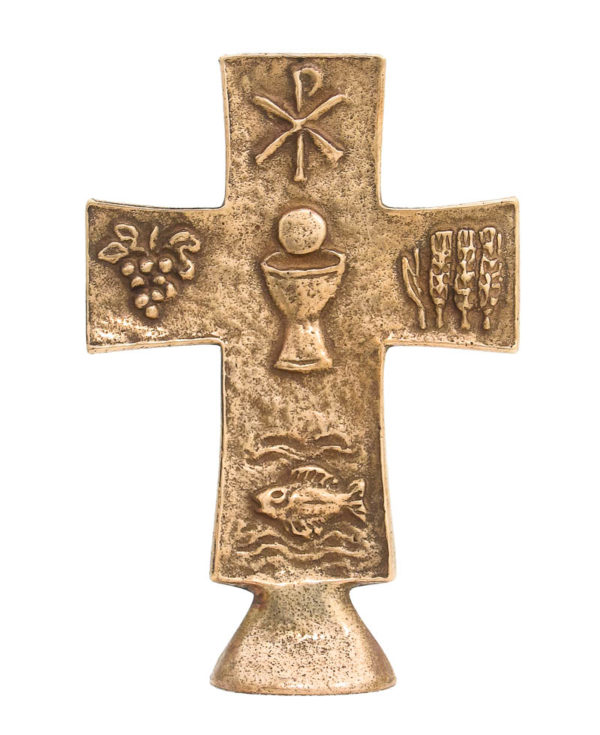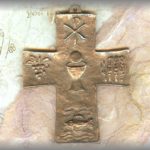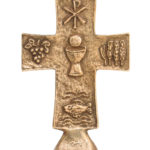 Description
COMMUNION CROSS: This solid bronze cross is alive with symbols that tell thestory of our Christian faith. A well defined cross, perfect for those receiving their first Holy Communion.
Atop the cross is the Chi-Rho, a symbol that combines the first two Greek letters of Christ and is one of the earliest Christian symbols. On the left and right arms are the grapes and wheat used to make the bread and wine. At the foot of the cross, the fish was an ancient symbol of the church that identified the new Christians who had to remain secretive so they would not be slain. Also the fish reminds us of the feeding of the five thousand.
---
ABOUT BUTZON BERCKER: In 1870, Butzon and Bercker began as a publishing company. By 1920 it began to produce fine religious art and in 1930, they started their own woodworking shop. By 1958, a foundry was established and they began to produce fine bronze religious art. There are over 80 artists, from blacksmiths to sculptors. Their work ranges from small, wearable pendants, to liturgical appointment for churches. All finishing work is done by 25 master artists, providing the buyer with the finest of work.
Part of our Creator Mundi Collection.
---
PRICING SUBJECT TO CHANGE WITHOUT NOTICE: (pricing determined at time of casting)
AVAILABLE IN BRONZE ONLY: (AS WALL HANGING OR STANDING)
GWS.6014 (WALL HANGING) = $33 (Regular) Your Special Sale Price $31
ONLY (2 – WALL HANGING) LEFT IN STOCK (AVAILABLE TO BACK ORDER – ALLOW 1-2 WEEKS)
GWS.6014S (STANDING) = $37 (Regular) Your Special Sale Price $35
ONLY (1 – STANDING) LEFT IN STOCK (AVAILABLE TO BACK ORDER – ALLOW 1-2 WEEKS)
*NOTE:  THIS PRODUCT MAY REQUIRE ADDITIONAL POSTAGE FOR SHIPPING, DUE TO THE SIZE & WEIGHT OF THE ITEM. (It may have to be shipped USPS Priority Mail instead of First Class Mail) If so, you will be quoted the price in your order confirmation. 
(actual size: Wall Hanging = 4 in. H x 3.0625 in. W)
(actual size: Standing = 4.4375 in. H x 3.0625 in. W)
PRICING SUBJECT TO CHANGE WITHOUT NOTICE: (pricing determined by gram wt of metals at time of casting)