TRANSFORMATION CROSS (Butzon Bercker – Germany) (3.8125 in. H x 3.0625 in. W) – GWC.6015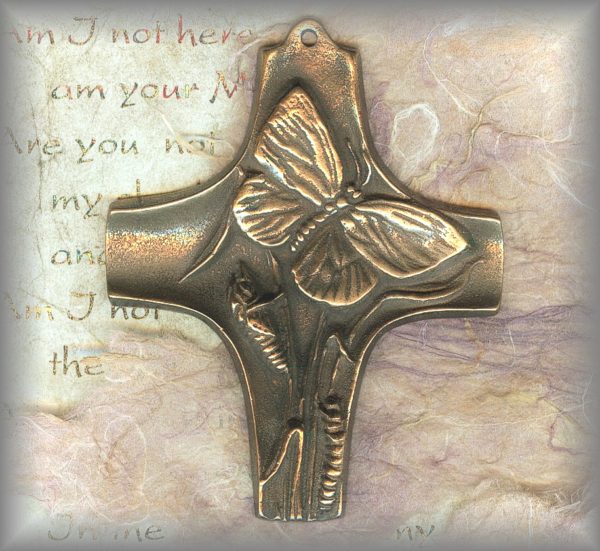 Description
TRANSFORMATION CROSS: A delightful cross with a big butterfly that symbolizes new life. The transformation from lowly caterpillar, to silent pupa (or chrysalis), to glorious butterfly is a profound natural symbol of the transformation which every human person is created to undergo: We live our earthly lives with much toil, struggle, and hunger for meaning. We live our entire lives on an inescapable trajectory towards the absolute and terrifying silence (and seeming finality) of decay, death and entombment. But death is not the end! We will emerge from our tombs, finally and definitively, as our glorious, resurrected and transformed selves in new and eternal life in communion with Christ.
SPECIAL GIFT: for people coming into the church and for Confirmands and those receiving First Holy Communion. For marriages or any special event in one's life. Think too of someone entering into the religious life. A beautiful gift for those who have lost a loved one to remind them of the life to come after death. We give these as Christmas gifts and love seeing them hanging on the walls of those who receive them.
---
ABOUT BUTZON BERCKER: In 1870, Butzon and Bercker began as a publishing company. By 1920 it began to produce fine religious art and in 1930, they started their own woodworking shop. By 1958, a foundary was established and they began to produce fine bronze religous art. There are over 80 artists, from blacksmiths to sculptors. Their work ranges from small, wearable pendants, to liturgical appointment for churches. All finishing work is done by 25 master artists, providing the buyer with the finest of work.
Part of our Creator Mundi Collection.
---
PRICING SUBJECT TO CHANGE WITHOUT NOTICE: (pricing determined at time of casting)
AVAILABLE IN BRONZE ONLY:
GWC.6015 = $30 (Regular) Your Special Sale Price $28
SOLD OUT (UNABLE TO REORDER – DISCONTINUED)
(actual size: 3.8125 in. H x 3.0625 in. W)
PRICING SUBJECT TO CHANGE WITHOUT NOTICE: (pricing determined by gram wt of metals at time of casting)